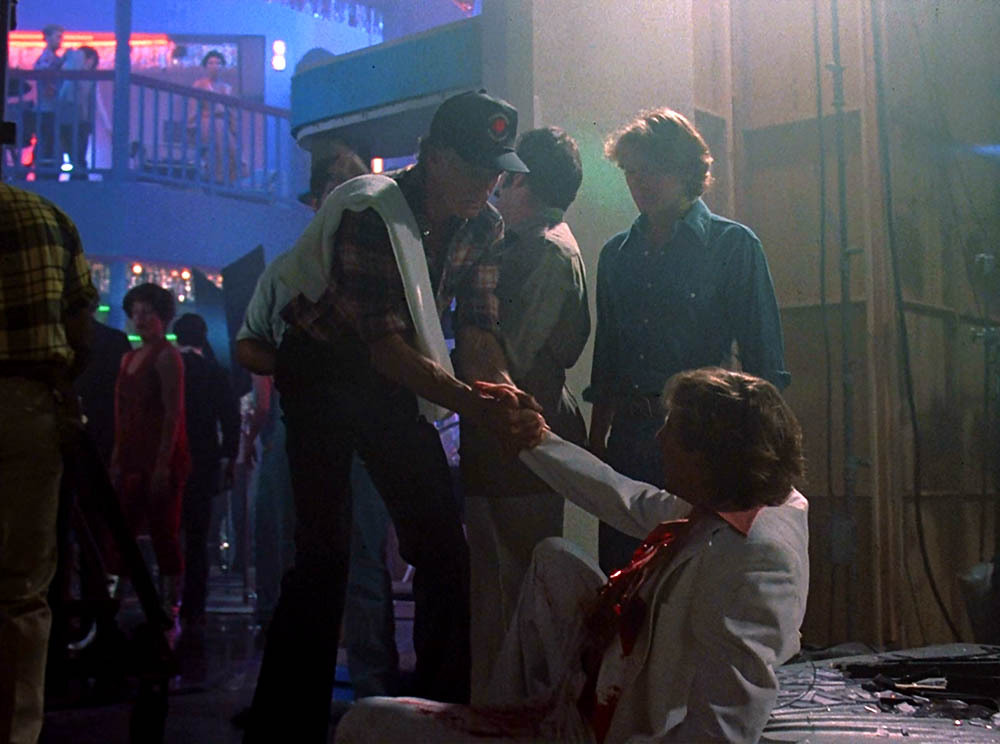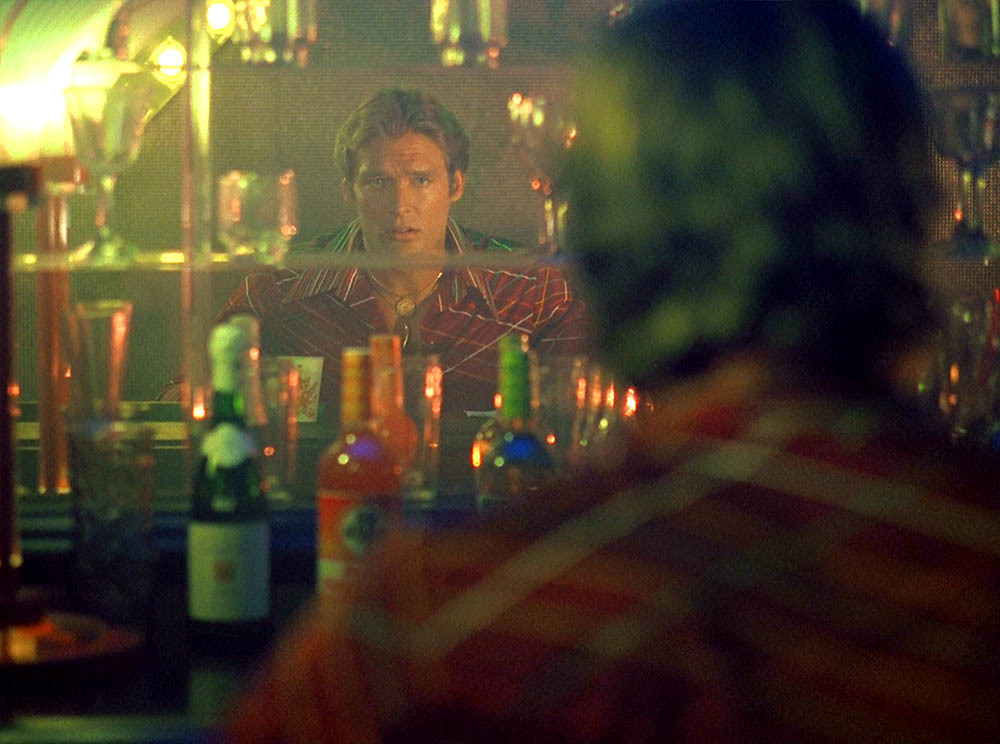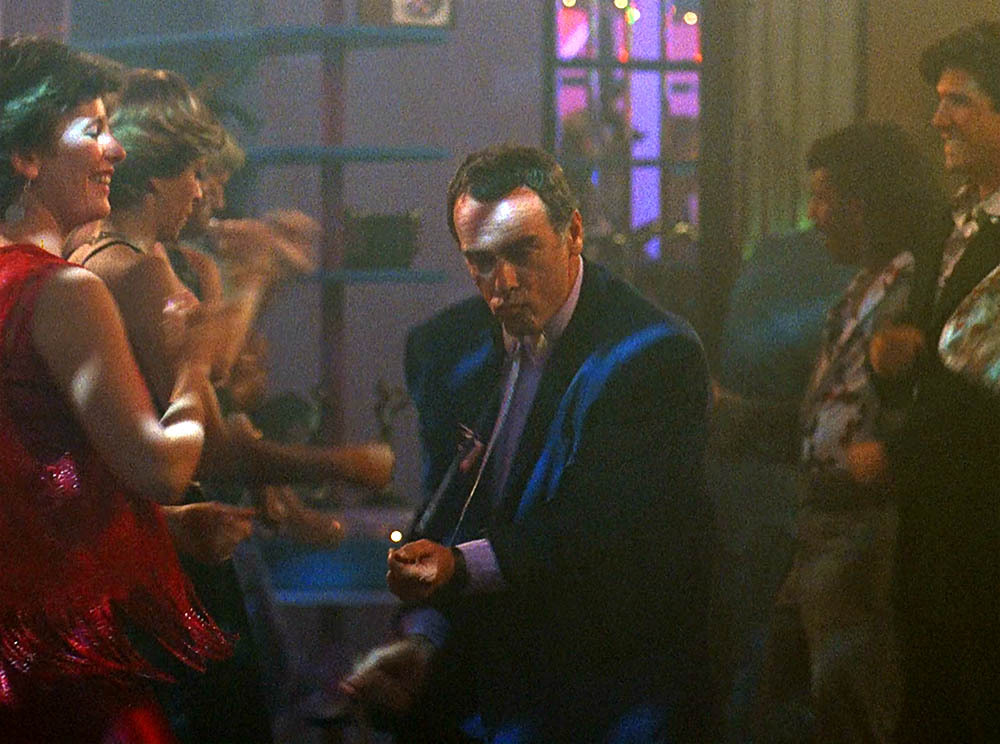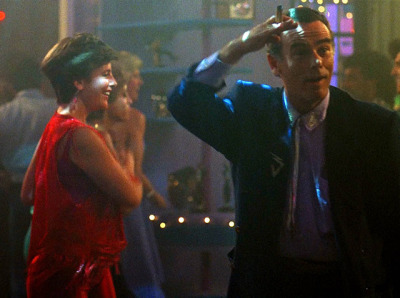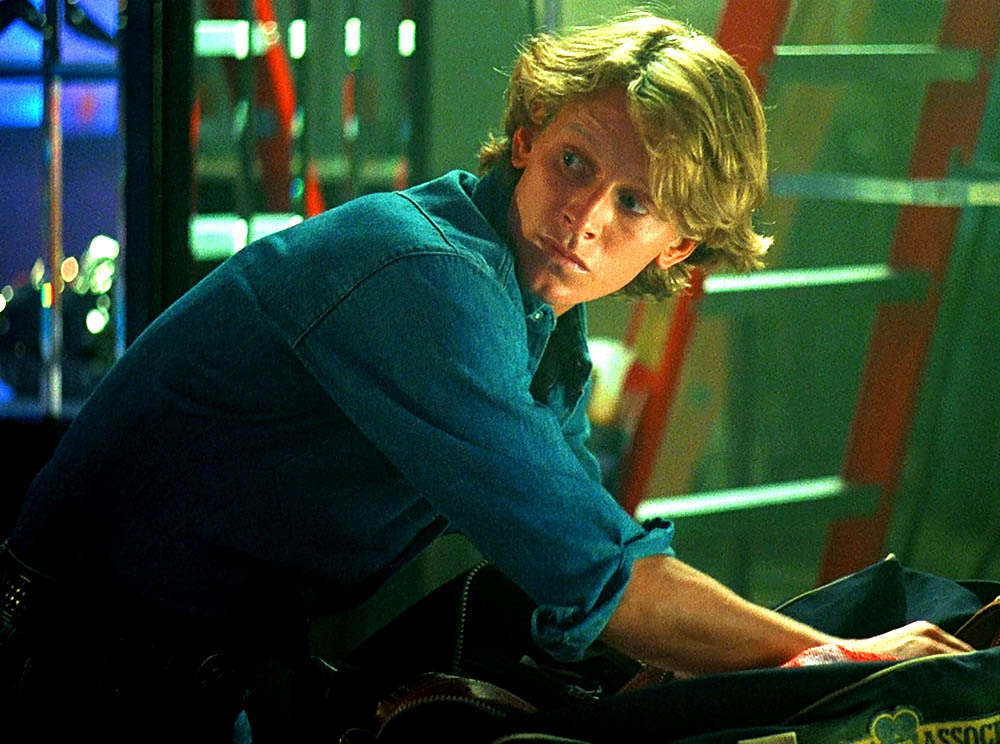 "Disco Inferno"
---
Leap Date:
April 1, 1976
---
Episode Adopted By: Sherdran <AKA> Eleiece
Synopsis:
It's the 70's and Sam is in the middle of disco, mood rings, and everything he hates the most. His name is Chad and his new little brother will die sometime soon but Ziggy is broken. He has tagged extra zeros onto everyones paychecks, so employees of the project all went out on vacation and Al can't help with details.
Chris, Chad's younger brother, is an aspiring stuntman like his older brother and father, but seems to have more of an aptitude for playing the guitar and singing. Sam must prevent the death of Chris and help him on his career path that may not satisfy their father's wishes..
Meanwhile, Sam's swiss-cheesed memory is beginning to fill in...and he remembers he has an older brother who died in Vietnam. Now Sam is the older brother and must prevent Chris's death.

Place
Leap Date
Project Date
Name of the Person Leaped Into
Songs
Music Artists
Project Trivia
Sam Trivia
Al Trivia
Al's Women
Al's Outfits Worn in the Episode
Miscellaneous Trivia
Kiss with History
Writers
Director
Producers
Crew
Broadcast Date
Guest Stars
Guest Cast Notes
Guests who appeared in other Quantum Leap episodes
Cast members who have passed away
Personal Review
Best Lines
Best Scenes
Say what? (things in the episode that make no sense)
Quotable Quotes
Awards
Script
DISCO INFERNO

Leap Date: April 1, 1976 (Thursday)

First Aired: September 27, 1989 (Wednesday)

Leap location: Burbank, California

Leapee: Chad Stone / Occupation: Stuntman

Leapee's Family: Ray Stone, Chad & Chris' father, and
Christ Stone, Chad's younger brother


Songs heard in this episode:
"That's the Way I Like It" by K.C. & the Sunshine Band
"Kung Fu Fighting" by Carl Douglas
"The Hustle" by Van McCoy & The Soul City Symphony



Personal review:
Besides the lesson of learning to not let anyone dictate to you how to live your life and to believe in and follow your dreams, this was a fun look back at the year I graduated from high school. And one more thing ---Sam, cover your ears, darlin' --- I like disco music!



Project Trivia:
Ziggy, referred to as 'he' in this episode, is out of whack and needs fixing; example of problem - according to Al:

"He tacked extra '0's on everyone's paycheck so half the staff rushed out on vacation."

In a later scene when Sam asks about Ziggy, Al checks the handlink, doing a double take as he replies, "He's... Japanese. ... He's spitting out everything in Japanese.. Well, that's what you get for feeding him those foreign computer chips."



Sam's Outfits worn in this episode:
(Note: In D.I. Scott had more costume changes than Dean did! In fact, Dean had only 3 different costumes for the entire episode; Scott had 8! Talk about a clothes horse!)

Sam's various costumes in order of appearance:
1 - (leap-in scene) - White polyester suit with wide lapels, patterned shirt, gold neck chains and gold (high) platform shoes.

2 - (meets Traci Devore) - The white suit pants, a dark brown and white,
narrow-stripe patterned polyester shirt and a gold neck chain with medallion. (Note, except for the safety vest and undershirt he had on under the safety vest for the 'shooting' stunt, all the shirts were long-sleeved). Traci also gives Sam her mood ring ("It's for getting in touch with your feelings.")

3 - (talking by the truck with Chris and Ray, then getting in the car with Chris) - Blue jeans, boots and jewelry, a variegated medium blue, black and white stripped shirt (remember, he had to change it after Chad's date from the night before threw a glass of water in his face), off-white boots (I'm guessing probably snake skin), and a silver watch on his left wrist.

4 - (next day on the set of 'Earthquake") - Dark brown pants, white shirt (sleeves rolled up on his forearms) and a wide, blue w/white polka-dot tie, and dark shoes, and an ill-fitting wig.

5 - (at the apartment after doing the fall) - Blue jeans, yet another blue patterned shirt, brown leather vest and boots;

6 - (at the bar when Chris sings) - Blue jeans, blue denim shirt with small flowers embroidered on the front above the pockets and on the back, brown leather belt, boots, and a silver neck chain;

7 - (scene where he goes to Ray Stone looking for Chris) Blue jeans, still another variegated blue shirt, this one a wide check pattern (the wardrobe mistress/master must have had a fixation on blue in this episode!), off-white/snakeskin boots, silver watch, and those cool black sunglasses.

8 - (last scene - at the apartment watching the basketball game) - Jeans, orange, dark blue, black and white patterned shirt, boots and a silver neck chain.



Al's outfits worn in this episode:
1 - (First scene - on the set, dancing with the extras) - Medium dark blue suit, white shirt, narrow white tie, lightning bolt pin on right lapel, black-banded watch on left wrist.

2 - (next scene - on the balcony at the apartment) - A white . "One hundred percent virgin polyester" suit with wide lapels, a black, peach & white large floral print shirt with a wide collar, a thin-linked gold neck chain (I had to look very close to determine if it was gold or silver). Though his feet aren't seen, I am assuming that Al's shoes were also white. He also wears this suit in the explosion scene at the studio; in this scene, Al also has some sort of small leather bag (a purse? *g*) hanging on his right wrist.

3 - (last scene - in the apartment during the basketball game) - Orange
shirt with narrow a 'band' neckline (no 'regular' collar), leopard-print
suspenders (I believe he also wore these in 'The Right Hand of God' in the boxing ring scene), dark pants, a silver neck chain, and a black-banded, gold-faced watch. Again, since his feet aren't seen, I'm going to assume that, in keeping with his outfit, Al's shoes were either dark (brown or black) or more likely, I think, some shade of orange to match the shirt.



Miscellaneous Trivia:
'Disco Inferno' is one of two episodes with a leap date of April 1st (April Fool's Day). The other episode is 'M.I.A.', set on April 1, 1969.

In this episode Al held a cigar three times: Once in the leap-in scene, next in the balcony scene at the apartment, and lastly in the rescue scene at the studio.

Al also sneaks up on Sam twice: the first time in the apartment during one of the times Sam is looking at the picture of Chad and Chris as kids. The second time is in the kitchen scene when Sam opens the refrigerator to get two more beers then is startled to see Al standing in front of him on the other side of the open fridge door.

Also, in the beginning of the set scene where Chris gets injured, the 'gofer' --tall guy with long sideburns and wearing a blue shirt - also had a role in the 'All Americans' episode. He was the football player in the victory scene on the football field who slammed Sam on the shoulders knocking him down while yelling "ROAAAR JAGUARS!" He was also in the scene with Chewy in the locker room scene: He said to Chewy: "Is Eddie still running laps?" / Chewy (laughing): "He may be still running laps maņana "

And last, but not least, in scene where Sam does the 'little fall' and is hanging onto the beam, in the stock shot from the movie 'Earthquake'
of the group of people who come running to try and rescue him, Al gets
excited when he sees Lorne Greene/Ben Cartwright [of 'Bonanza' fame].
But to his right and a step or so behind him is a young Regis Philbin, who now has his own long-standing morning talk show 'Regis and Kelly' (formerly 'Regis & Kathie Lee').



Sam's best line(s):
"The 'me' decade, where everybody had the morality of two dogs in the park."


Al's best line(s):
(On the balcony on the set with Sam during the first scene):
".with lights, camera..plenty of action." ;

(On the balcony at the apartment, describing/defending his suit): "Sam, wake up and smell the 70s! You're looking at genuine one-hundred percent, high-grade, virgin polyester. The only thing that got me more women was my space suit."

But by far and away, IMHO, Al's very best lines are in the apartment scene when Sam remembers Tom is dead and asks Al to confirm his memory:

"Yeah. He was killed in Vietnam. That was one part of your Swiss-cheesed memory was hoping you wouldn't get back."



Best lines between Sam and another character:
(The bar room scene just after Chris punched his father):

Ray Stone: "Whoa. The boy do know how to punch, doesn't he? Lucky for him that you was holding me."

Sam: Lucky for you he only threw one."



Sam Trivia
In the opening scene when he becomes annoyed when Al's telling him he's
got to look after Chris like a big brother, it jogs Sam's memory and he
remembers he has a big brother (Tom), and tries to worm information out
of Al, without success. Later in the apartment when he's looking at a
picture of Chad and Chris as little boys, he remembers that Tom played
basketball and was, ".high school varsity.All-American Indiana State
championships in 1965...no, 1964.) A few minutes later, in Chris' room,
he recalls (and tells Chris about) how Tom talked him/Sam to follow his
talents and convinced him to go to M.I.T. which eventually led to Sam
winning a Nobel Prize.



"'IN' things of the 1970s"
Disco Swinging singles
Est Hot tubs
Mantras Farah Fawcett
Mood rings* 8-track tapes
Edible underwear

(*The colors of the mood ring mean:

Jade green - ultra intense
Blue - ecstasy
Black - tense, disoriented, harassed
Reddish-brown - 'you need to chug some sangria' - at least according to Traci Devore)



Guest Stars (in order of appearance):
Michael Greene (Ray Stone - Chad & Chris' dad)
Kris Kamm (Chris Stone)
Peter Onorati (the obnoxious director)
Arnetia Walker (Traci Devore)
Kelli Williams (Shannon)


Guest Cast Notes:
MICHAEL GREENE (Ray Stone, Chad and Chris' father) - According to my research, it is thought that Mr. Greene's first acting role was as tiny bit part in the 1965 big screen file 'The Cincinnati Kid' starring Steve McQueen. He had other small roles well into the 70s. The most memorable of those bit roles was the one as the motorcycle punk in the film 'Play It Again Sam' (1972) with Woody Allen. According to one place I checked, an interesting point about that movie, is that later in the film, Michael showed up as a restaurant extra sitting directly across from Woody Allen. In 1973 that Mr. Greene received his first leading role (3rd in line for the starring credits with John Drew Barrymore [son of the John Barrymore and father of actress Drew Barrymore] and Bruce Bennett) in the film "The Clone".


KELLI WILLIAMS (Shannon) - Kelli's most well-known, current starring
role is the popular TV drama "The Practice" in which she portrays attorney Lindsay Dole.

She's also made guest-star appearances in a number of popular TV shows, including: Scrubs, The Late, Late Show with Craig Kilborn, Ally McBeal, Picket Fences, Earth 2, Party of 5, and Beauty and the Beast.

Kelli also has various TV movie and mini-series roles to her credit, such as:

A Woman Scorned
The Betty Broderick Story
The Case of the Hillside Stranglers,.


KRIS KAMM - (Chris Stone): Besides Quantum Leap, some of Kris' other notable guest star appearances in TV shows include:

Coach (numerous appearances as Stuart Rosebrock / 1989 - 1997)
Murder, She Wrote (1997)
21 Jump Street (1988)
Married..with Children (1987)

A few of Kris' film credits (TV and big screen) are:

Lost in the Pershing Point Hotel (2000)
Andersonville (1996 - TV)
Gambler V - Playing For Keeps (1994),
In The Line of Duty - Ambush in Waco (1993 - TV), and
Born To Ride (1991)


ARNETIA WALKER (Traci Devore):
One of Ms. Walker's starring TV roles was in a spin-off of The Golden
Girls and Empty Nest called "Nurses"

In her career Ms. Walker has also made numerous guest-starring appearances in a variety of TV sitcoms and dramas, including:

Everybody Loves Raymond
Judging Amy
Touched By An Angel
Malcolm & Eddie
NYPD Blue
Mad About You.

Arnetia also has several big screen roles to her credit, among them the role of Dogette in "The Best Little Whorehouse in Texas" (1982).


PETER ONORATI (the obnoxious director):
Long before he discovered acting, Peter had a promising career in pro-football -- he was an NCAA all-conference wide receiver - but that it ended when the World Football League went belly up. After college he worked in corporate business a few years before eventually turning to stage comedy then dramatic acting; eventually he moved to LA.

Besides his appearance in the Quantum Leap episode 'Disco Inferno' as
the obnoxious director of (according to Al) ".a low-budget disaster movie - Disco Inferno .we're talking two thumbs down.", a few other TV programs on which he has made a guest appearance are:

American Dreams.
Providence
Crossing Jordan
Sex in the City
Sheena
The Pretender
Touched By An Angel
A few of Peter's big screen credits include roles in:
Ordinary Sinner (2001)
Just Looking (2000)
Pedestrian (2000)
Goodfellas (1990)
Postcards From the Edge (1990
Fallen Arches (1999)


Best scene:
Between Sam and Al when Sam suddenly remembers his brother, Tom, is dead, and Al finally, somberly admits that he's right:

Sam (hesitantly) "Tom's.dead, isn't he?" .. "Al."

Al (somberly): "Yeah. He was killed in Vietnam." -- a pause-"That's one part of your Swiss-cheesed memory was hoping you wouldn't get back."



Music by: Mike Post

Written by: Paul Brown

Supervising producers: Deborah Pratt, Paul M. Belous and Robert
Wolterstorff

Co-producer: Paul Brown, Jeff Gourson and Chris Ruppenthal

Produced by: Harker Wade

Directed by: Gilbert Shilton


Worst thing about this episode: Can't think of any.