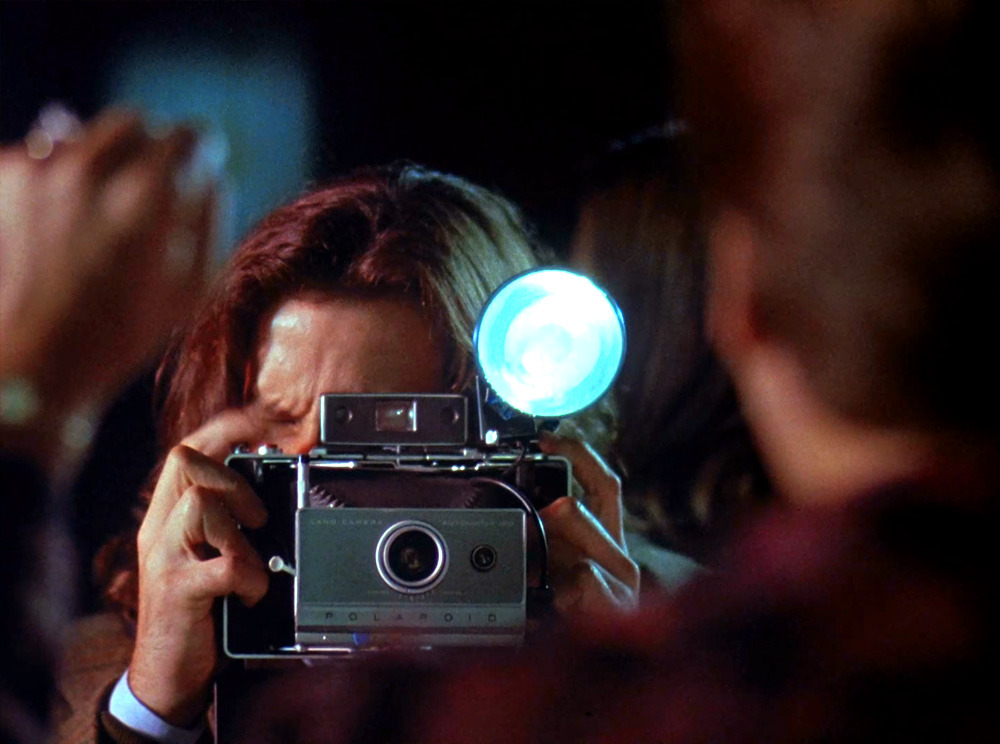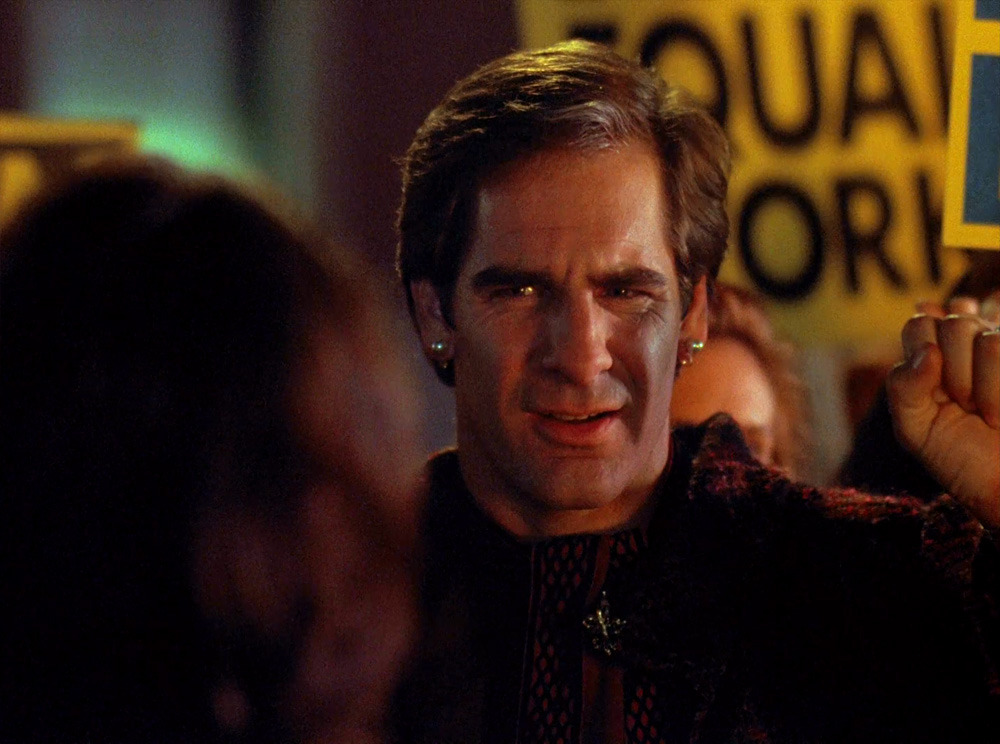 "Liberation"
---
Leap Date:
October 16, 1968
---
Episode Adopted by: Eleiece <aka> Sherdran
Synopsis:
In the age of women's lib, Sam finds himself as a bra-burning mother who must prevent his daughter from getting killed in a violent protest. At the same time, he has to keep the husband of the family from walking out on them when Sam and the daughter try to open his mind to the possibility that women are more than just housewives.

Place
Leap Date
Project Date
Name of the Person Leaped Into
Songs
Music Artists
Project Trivia
Sam Trivia
Al Trivia
Al's Women
Al's Outfits Worn in the Episode
Miscellaneous Trivia
Kiss with History
Writers
Director
Producers
Crew
Broadcast Date
Guest Stars
Guest Cast Notes
Guests who appeared in other Quantum Leap episodes
Cast members who have passed away
Personal Review
Best Lines
Best Scenes
Say what? (things in the episode that make no sense)
Quotable Quotes
Awards

Title of Episode: Liberation

Name of the Person Leaped Into: Margaret Sanders

Family of Leapee:
George (husband)
Suzanne/Suzi (daughter)
George, Jr. (son).


Place/Location of Leap: A city in Connecticut near a college.


Leap Date/Day: October 16, 1968/Wednesday


Original Broadcast Date/Day: January 12, 1993/Tuesday


Musical score: Velton Ray Bunch


Theme: Mike Post


Sam Trivia:
Remembers that his father never treated his mother in a demeaning manner like George treats Margaret.


Miscellaneous Trivia:

"Liberation" is considered to be one of the most radical episodes of the entire Quantum Leap series.

---
Samuel Beckett, the Irish-born playwright and novelist Suzie mentioned during the kitchen scene, was born in Dublin, April 13, 1906 and died December 22, 1989. His best known work is the drama, "Waiting for Godot". In 1969, Samuel Beckett received the Nobel Prize for literature.

[How about that! We know two Becketts that won a Nobel Prize! ;-)]

---
"The Flying Nun" premiered on September 7, 1967 and ran for three seasons. Some other TV shows popular in 1968 were:

"Hawaii Five-O" (it first aired in September 1968)
"Dark Shadows"
"McHale's Navy"
"Tarzan"
"Gilligan's Island"
"Wild, Wild West"
"Star Trek", and
"Batman" (1968 was its last season).

---
The books on the coffee table were:

"Howl" by Allen Ginsberg.

"Black Power" by Stokely Carmichael and Charles V. Hamilton.

"The Female Eunuch" by Germaine Greer. (See 'Say what?)

---
Al used the "candy cube" handlink in this episode.

---
Al carried a cigar in several scenes.



Al's Outfits Worn in the Episode:

Red suit, dark patterned shirt, dark tie with a round tie clip/pin at the throat, and either red
or black shoes (a guess, since his shoes weren't seen).

---
Dark leather jacket with dark-goldenrod-yellow sleeves; red trousers with a black belt; shirt was a gray/slate-blue patterned shirt with a bit of very light purple; a narrow, silver tie; black shoes (another guess).



Sam's Outfits Worn in the Episode:

Long-sleeved, brown dress; brown plaid coat w/brown scarf; narrow bold watch on left wrist; brown
shoes and purse, and a diamond wedding ring.

---
Another brown dress or possibly the same one with yet another brown scarf around his neck; brownish-orange-yellow stripe-patterned full apron with green piping, and brown shoes.

---
Dark-green, long-sleeved dress with a broach near the throat, medium-heel brown shoes, gold
earrings, and a brown purse.


Writers: Chris Abbott and Deborah Pratt


Director: Bob Hulme


Producers:
Supervising: Harker Wade, Tommy Thompson and Richard C. Oakie
Co-Executives: Deborah Pratt and Chas. Floyd Johnson
Producer: Robin Jill Bernheim



Regular Cast:
Scott Bakula as Sam Beckett, and Dean Stockwell as Al Calavicci, and Deborah Pratt as the opening narrator and the voice of Ziggy.



Guest Stars:

JORDAN BAKER - (Evy Brownsfield):

Starring Roles:

Hiller and Diller (1997)
Top of the Hill (1989)

Guest Starring Roles:

Passions (2003)
The Division (2003)
Good Morning, Miami (2003)
Ally McBeal (2002)
Judging Amy (2002)
NYPD Blue - Deborah Abrams - Moms Away (2001)
Kristin - Rita - The In-Crowd (2001)
The West Wing (2001)
Once and Again (2000)
Family Law (2000)
7th Heaven (2000)
Touched by an Angel (1999)
Chicago Hope (1999)
Buffy the Vampire Slayer (1999)
Frasier (1998)
Just Shoot Me (1998)
Picket Fences (1996)
Grace Under Fire (1996)

L.A. Law (1990)



MARY ELIZABETH MURPHY (Dora -Tipton-):

Guest Starring Roles:

Flying Blind (1993)



MAX GAIL (also credited as Maxwell Gail) - (George):

Crew Credits:

Barney Miller - Director
Whiz Kids - Director


Starring Roles:

Normal Life (1990)
Whiz Kids (1983)
Barney Miller (1975-1982)

Guest Starring Roles:

The Drew Carey Show (2001)
18 Wheels of Justice (2000)
Judging Amy (2000)
Chicago Hope (1998)
Dr. Quinn, Medicine Woman (1996)
Home Improvement (1995)
Doogie Howser, M.D. (1992)
Murder, She Wrote (1989)
Amazing Stories (1987)
Tales of the Unexpected (1985)
Battle of the Network Stars - ABC Team - Special #9 (1979 & 1980)
The Streets of San Francisco (1976)
Cannon - Eddie - The Rip-Off (1971 & 1972)


Movie/Mini-Series/Special Roles:

Mind Lies (2000)
Judgment Day (1999)
Naturally Native (1998)
Not in This Town (1997)
Good Luck (1996)
Forest Warrior (1996)
Pontiac Moon (1994)
Ride With the Wind (1994)
Dangerous Touch (1993)
Street Crimes (1992)
A Child Lost Forever (1992)
Somebody's Daughter (1992)
The Switch (1992)
The Outside Woman (1989)
Judgment in Berlin (1988)
Man Against the Mob (1988)
Hoxsey: How Healing Becomes a Crime (1987)
The Game of Love (1987)
Intimate Strangers (1986)
Killer in the Mirror (1986)
Amazing Stories, Book 4 (1985)
Can You Feel Me Dancing? (1985)
Letting Go (1985)
Where Are the Children? (1985)
The Other Lover (1985)
Heartbreakers (1984)
D.C. Cab (1983)
Secret Agent (1983)
Grand Baby (1981)
The Aliens Are Coming (1980)
Fun and Games (1980)
Alien Force (1979)
11th Victim (1979)
Desperate Women (1978)
Like Mom, Like Me (1978)
Pearl (1978)
Curse of the Black Widow (1977)
Night Moves (1975)
Cardiac Arrest (1974)
Call to Danger (1973)
Dirty Harry (1971)
The Organization (1971)
The Priest Killer (1971)



MEGYN PRICE - (Suzi):

Starring Roles:

Grounded for Life (2001)
LateLine (1998)
Common Law (1996)

Guest Starring Roles:

The New Tom Green Show (2003)
The Late Late Show with Craig Kilborn (2002)
Will & Grace (2000)
The Drew Carey Show (1995 & 1996)

Saved By The Bell (1994)


Movie/Mini-Series/Special Roles:

Mystery, Alaska (1999)
Love Happens (1999)



ERIC BRUSKOTTER - (Red):

Guest Starring Roles

The Practice (2001)
The Fugitive (2000)
The Pretender (2000)
Sports Night (1999)
Providence (1999)
Pensacola: Wings of Gold (1998 & 1999)
Townies (1996)
Beverly Hills, 90210 (1994)
Quantum Leap (1991 & 1993)
The Wonder Years (1992)
Cheers (1990)
Tour of Duty (1989)
War of the Worlds (1988)
Mr. Belvedere (1986)

Co Starring Roles:

JAG (1995)
Tour of Duty



BILL CALVERT - (Peter Tipton):

Film credits:

Body Waves (1992)
C.H.U.D. II: Bud the Chud (1989)
Terror Squad (1987)
Six Weeks (1982)
An Innocent Love (1982)

Starring Roles:

The Slap Maxwell Story (1987)
Fast Times (1986)

Guest Starring Roles:

Ellen (1994)
Quantum Leap (1993)
Silk Stalkings (1992)
Night Court (1990)
China Beach (1989)
Beauty and the Beast (1989)
Who's the Boss? (1988)
Stingray (1987)
Highway to Heaven (1987)
Eight is Enough (1981)
The Jeffersons (1979)

Co Starring Roles:

Alfred Hitchcock Presents (1986)
Little House on the Prairie (1980)



DEBORAH VAN VALKENBURGH - (Diana St. Cloud):

Starring Roles:

Too Close for Comfort (1980-1985)

Guest Starring Roles:

Once and Again (2002)
The Huntress (2001)
Chicago Hope (1998)
Quantum Leap 8 (1993)
Picket Fences (1992)
Monsters (1990)
MacGyver (1990)
Hotel (1985)

Co Starring Roles:

Star Trek: Deep Space Nine (1995)


Movie/Mini-Series/Special Roles:

Firestarter 2: Rekindled (2002)
Chasing Destiny (2000)
Mean Guns (1997)
Free Enterprise (1998)
Brainsmasher A Love Story (1993)
One Man Out (1989)
Phantom of the Ritz (1988)
Rampage (1987)
Going for the Gold - The Bill Johnson Story (1985)
A Bunny's Tale (1985)
Streets of Fire (1984)
King of the Mountain (1981)
The Warriors (1979)



STEPHEN MILLS (sometimes credited as Stephen Keep)- (Chief Donald Tipton):

Film/TV movie credits:

Imprint (2002)
The Firm (1999)
Separated By Murder (1994)
The Front (1974)
Love and Money (1973)
Deal Of The Century (1983)
The Glimmer Man (1996)
Moment of Truth: Murder or Memory? (TV- 1994)
A Place for Annie (TV - 1994)
1983 Deal of the Century (1983)
1983 Starflight One (1983)
1983 Desperate Intruder (1983)
1983 Thursday's Child (1983)
1983 Cocaine: One Man's Seduction (1983)
1982 When Hell Was in Session (1982)
1982 Love and Money (1973)
1980 Bogie (1980)
1980 City in Fear (1980)
1979 The Billion Dollar Threat (1979)


Guest Starring Roles:

VR.5 (1995)
L.A. Law (1994)
Quantum Leap (1993)
Hart To Hart (credited as Stephen Keep) (1983)
Cheers (1982)
M*A*S*H (1979)


Theatre credits:

A Private View (1983 or 1984)
The Shadow Box
Story Theatre

Also several other off-Broadway productions



BILL CORT - (Flanners):

Film credits:

Sweet Jane (1997)
Heathers (1989)
Sammy (1988)
Go Toward the Light (1988)
Flicks (1987)
Hysterical (1983)


TV Movie/Mini-Series/Special:

Alex and the Gypsy (1976)

Guest Starring Roles:

Little House on the Prairie (1974)
Banning (1967)



ELAN ROTHSCHILD - (George, Jr.):

Film credits:

Scanner Cop (1994)


Guest Starring Roles:

Someone Like Me (1994)
Quantum Leap (1993)



MATT KIRKWOOD - (Photographer):

Guest Starring Roles:

Boy Meets World (1994, 1996 -1999)

Quantum Leap (1993)



Guest Cast Notes:

Max Gail spent his senior year of high school as an exchange student in Germany.

---
Max earned two collegiate degrees, one from Williams University, the other from the University of Michigan. He then became a teacher in Detroit's inner city, partially to ensure himself a draft deferment.

---
Since he began writing plays in 1986, Stephen Mills has focused almost exclusively on bringing that writing to audiences as a director, actor and producer. "Hotel Lobby" is his first effort as a screenplay writer and filmmaker.



Guests who appeared in other Quantum Leap episodes:
Eric Bruskotter has also appeared in "Raped" and "Memphis Melody".



Personal Review:

I can't say that "Liberation" is one of my top ten favorite QL episodes. But that doesn't take away from the fact that, in my opinion, it's one of the best dramatic episodes, and I still enjoy it every time I watch it. This episode is on a short list of episodes, such as: "Running For Honor", "The Color of Truth", "Raped", and "Black and White On Fire," that dealt with other controversial subjects. I'm glad that Donald Bellisario, along with Scott, Dean and the rest of the cast and crew had the courage to tackle this subject with honesty.



Best Line(s):

Diana St. Cloud: "You're the wimps because you never bothered to develop the muscle that's
rotting between your ears."

---
Al: "What a scene...chicks in cells! Talk about your major fantasy! What could be better?
Ah...chicks *in chains* in cells."

---
Suzi and Sam:

Suzi: "Are you sorry you burned your bra last night?"

Sam: "No! The last thing I ever want to wear is another bra."

---
George: "Evy, why didn't you bring up these questions at the meeting this afternoon?"

Evy: "I didn't think anyone would listen."



Best Scene(s): There are three 'Best" scenes in this episode.


First 'Best' scene:

[Sam comes charging into the living room, incensed, just after he and George have argued.]

**********

Sam: "Can you believe that? Can you believe that man? I hate the way he orders me around...Margaret around like that. Little sweetie pie! It's demeaning."

Al: Well, actually, you know, it's the only way he knows how to say 'I love you'."

Sam: "Oh please!"

Al: "Yes. George is from a generation that was taught that women 'have a place'. And men 'have a place', and never the twain shall meet."

Sam: "Well if that's the system, take it from somebody on this side - in a dress, okay? It's your crash and burn."

Al: "Maybe."

Sam: "Nobody should be treated like that, Al. Nobody! Patronized...insulted like that."

Al: "George, and all the other Georges of the world have no idea they're denigrating women.
It's just that they were never taught to behave any other way."

Sam: "My dad never once treated my mother like that. He never talked to her like that. He
never... Why are you defending him?"

Al: "You're here to help Diana St. Cloud. IF in the mean time you can open George's eyes
to show how he's treating Margaret, that's fine.

Sam (sits on sofa): "If I open his eyes, I might destroy their marriage. That's what you said
last night. Right?"

[He notices some books on the coffee table.]

Sam: "Look at this. Ginsberg....Stokely Carmichael and Hamilton. It looks like everybody's
looking for a change."

Al: "Sam, you gotta attack one problem at a time."

Sam: "Okay. Alright. Okay, which problem?"

Al: "Well, Diana St. Cloud is planning a protest march tonight. And because of your heroic
gesture, the police chief - Tipton there, your friend - he gets a little more aggressive
than he normally would. He pulls out his gun...."

Sam: "He shoots Diana?"

Al: "Yes. Well, see, according to the paper, Tipton's trying to stop this march and they get
in a struggle, and this and that. And during the struggle he pulls the gun, and she gets
the gun away from him. Then when he gets it back...it goes off."

[As Al talks, Sam stands up from the sofa.]

Al: "Now, all you have to do, is you talk Diana out of this protest march thing, and Ziggy says
there's an eighty- six percent chance that you'll leap, everything's fine, forget about
George, and you don't have to fix dinner."

---

Second 'Best' scene:

[At the Addison Men's Club where Diana's just slugged Chief Tipton.]

**********

Al: "Move it, Sam!"

[Tipton and Diana struggle and she's pushed to the floor.]

Tipton: "I've had enough of you."

[As Tipton is speaking, Suzi takes his gun from its holster and points it at him.

Al: "Don't...don that dear! Sam! You better get in here and do something!"

[Diana scrambles to her feet and takes the gun from her, still pointing it at Tipton. Everyone freezes, watching Diana facing off Tipton. Sam rushes in then stops short when he sees Diana with the gun.]

Sam: "Diana, this is not the way to change things."

Tipton: "Margaret..."

Diana: "We're not the ones who need to change. They are."

Tipton: "Put that gun down."

Sam: "Have you told them what your demands are?"

Diana: "What are you talking about?"

Sam: "Well, unless you tell then what you want, they can't change anything."

Al: "Sam, keep her talking. Keep her talking."

Sam: "Tell them what this is for. Tell them what you want."

Diana: "We want equal rights."

Sam: You want to be a member of this club?"

Diana: "For starters."

Al: "Logic, Sam. Get her off of her emotions."

Sam: Did you apply for a membership and were rejected?"

Mr. Flanners: "No, she did not."

Diana: "Oh, if I did, would you let me in?"

Mr. Flanners: "It's up to the committee."

Diana: That's a lie!

Sam: "You don't know because you didn't try."

Diana: "It's in the by-laws. A woman can't own a membership in this club."

[Al's busy with the handlink.]

Al: "It's segregation, Sam, but it's not against the Constitution in a private club."

Sam: "Then you have to amend the by-laws. You have to amend the Constitution of the United
States."

Diana: "That'll take forever as long as men control it."

Sam: "You want to beat the system, you've got to confront it with it's own rules."

Diana: "So you're telling us to go home file an application?"

Sam: "I'm asking you to use the law. Now come on. Put the gun down and let's do this right.

Diana: "You're asking us to quit. Just like you quit. I won't be like you! Just take a good
look at yourself. You're just like my mother. You're turning into the dutiful house
frau. A messenger for the oppressor."

Sam: "Housewives and mothers are not your enemy. They're your ally. Now don't segregate us!"

[For a split second Diana considers what Sam has said...then cocks the gun.]

Suzi: Diana...no."

Diana: "Women like you are the reason we'll never get equal rights. You're so conditioned, you
believe that as long as men say so, they system is right."

Sam: "What is pointing a gun at the chief of police going to accomplish, Diana?"

Al (checking the handlink): "You're running out of time, Sam."

Sam: "There's so much work to be done. We need you here, not in a prison."

Diana: "They'll never let me play fair. We need to take a stand. (Her voices rises) "Are you
with me or this housewife?"

Suzi: "You said this was about choice. There's nothing wrong with being a housewife. Mom's
right. We'll never get anywhere if we keep blaming each other and fighting among
ourselves."

[Diana refuses to listen to Suzi.]

Diana: "No!"

Suzi: "Come on, Diana. Please."

[Suzi reaches toward Diana's arm to push the gun aside. Diana resists; Suzi pushes harder, diverting the gun. Sam lunges forward to shove Chief Tipton out of the line of fire just as the gun goes off.]


and,

---

Third "Best' scene:

[George confronts Sam in the men's club just after Diana's been taken away.]

**********

Al: "This is it, Sam. Ziggy says George is gonna move out."

George: "What do want me to do, Margaret? You left me no choice. I'm moving out tonight."

Al: "You see? See? You gotta fix it."

Sam: "If that's what you have to do."

Al (does double take): "What? What are you saying?"

[George, turns and starts to walk away from Sam, pauses then turns back when Sam begins to speak to him.]

Sam: "Let me ask you one question. Do you think you've had a good marriage all these years?"

George: "You know the answer to that."

Sam: "No, I don't."

George: "I think we've had a great marriage. That's why I don't understand why you're throwing
it all away like this."

Sam: "Well it seems to me like you're the one who's throwing it all away."

George: "I don't know what to do. All of a sudden you're not my Margaret anymore. Who am I
supposed to be if you're not you?"

Sam: "Maybe you could stop trying to make me into *your* Margaret, and try finding out who I
really am. And you could start that by respecting me for my thoughts and my ideas, even if
they're different from yours."

George: "I'm too old to change who I am."

Sam: "Only if you think you are. And only if you don't love your wife and children enough to try."

George: "I do love you very much, Margaret."

Sam: "Then try. That's all anybody can ask."

George: "Okay."



Quotable Quotes:

Sam to Suzi: "I'm not defending him anymore than I'm attacking her. You're going to meet people all through your life that have their own hopes and aspirations and fears. And those feelings influence the way you think. The hard part is to find a way to filter the good from the bad, no matter who's talking to you, a man or a woman."

---
* (Note: Though I've seen "Liberation" any number of times, I've only got one recording of it. But, unfortunately, while taping it, I managed to miss the first few words of this next quote, so I'm working from memory. The words in italics are the words I believe Sam said, or at least close to what he said.)

Sam (voice over, while driving): "When it came to women's lib, my mother always said that it was probably a good thing...for other women. But I had an understanding that no other man on the face of the Earth could have. I was a woman. Had been a woman on a number of leaps, and it was an eye-opening experience. Still, with all of the right I knew they had on their side, I couldn't condone Diana's promotion of violence."
Say What?:

I found a 'say what?' without realizing what I'd found until I was doing some research.

Specifically, while researching for information about the books that Sam was looking at in the living room, I discovered that the set dresser for that particular scene either didn't check the publishing dates of the books, or figured no one would notice since Sam only picked up the first two books. What I am referring to is the book Sam didn't pick up, The Female Eunuch written by Germaine Greer. The problem is that The Female Eunuch was written in the early 1970's, but "Liberation" is set in 1968, two years before the book was written. Only the other two books, "Howl" by Allen Ginsberg, published in 1956, and "Black Power" by Stokely Carmichael and Charles V. Hamilton published in 1967, were historically correct for this episode.