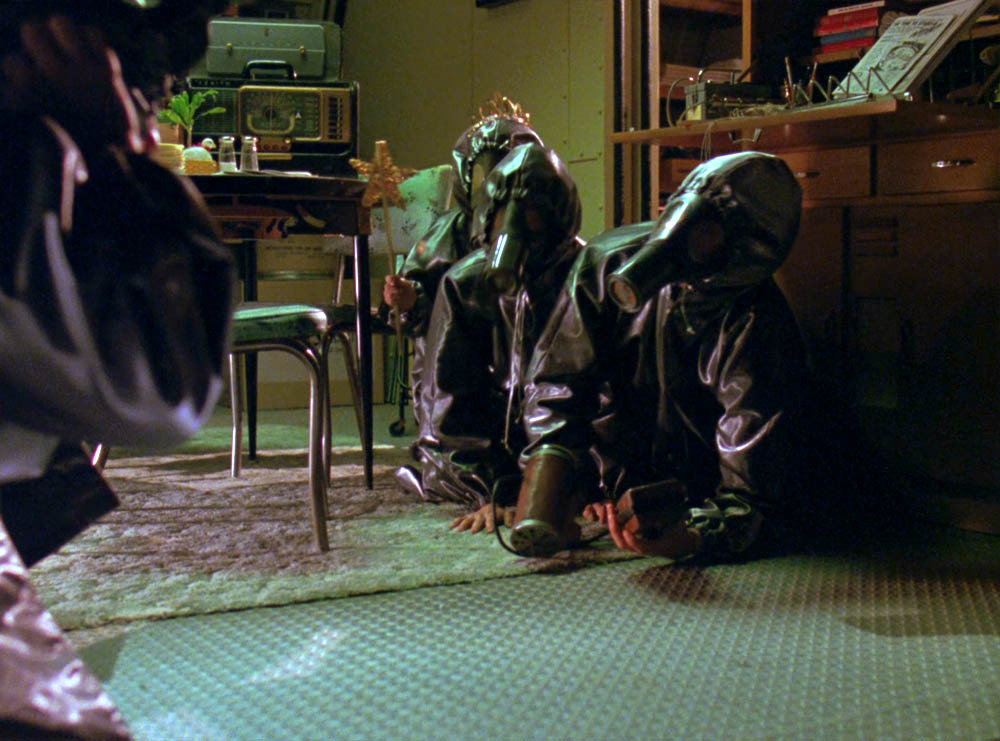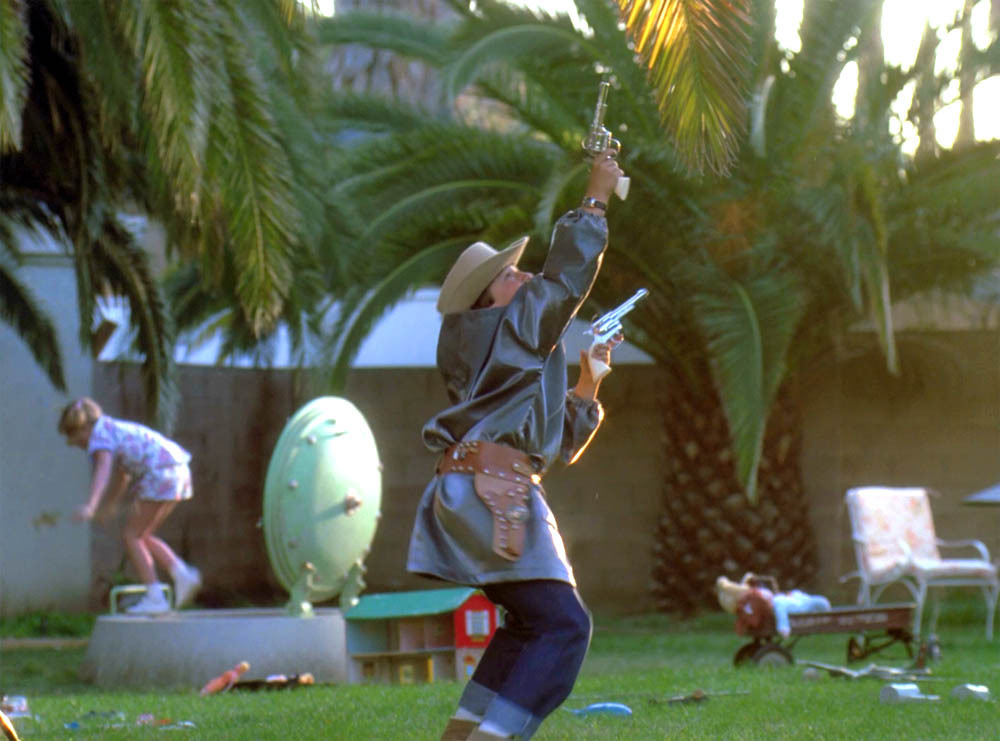 "Nuclear Family"
---
Leap Date:
October 26, 1962
---
Episode adopted by: MikeKraken
Synopsis:
In the body of a bomb shelter salesman during the Cuban Missile Crisis, Sam has to stop the killing of a neighbor during a false air raid alarm which results in the conviction of his brother.

Place
Leap Date
Project Date
Name of the Person Leaped Into
Songs
Music Artists
Project Trivia
Sam Trivia
Al Trivia
Al's Women
Al's Outfits Worn in the Episode
Miscellaneous Trivia
Kiss with History
Writers
Director
Producers
Crew
Broadcast Date
Guest Stars
Guest Cast Notes
Guests who appeared in other Quantum Leap episodes
Cast members who have passed away
Personal Review
Best Lines
Best Scenes
Say what? (things in the episode that make no sense)
Quotable Quotes
Awards


The era of "duck and cover" and air-raid sirens: Sam leaps into the height of the Cuban Missle Crisis as the brother of a bomb-shelter salesman. It's up to him to prevent a neighbour from being shot by one of the host's family members. "It's World War III!"

::Leap Date::
October 26, 1962
::Place::
Florida, USA

::Name of the Person Leaped Into::
Eddie Elroy, a junior student at Oklahoma State, currently working for his older brother to sell bomb shelters to make extra money.

::Songs/Music::
Just regular background music in this episode (by Velton Ray Bunch).

::Project Trivia::
Handlink: third version (colored cubes)

::Al Trivia::
Al flew reconnaisance flights over Cuba during the crisis in a F-4 Phantom Escort, in the squadron that went in right after a U2 was shot down while photographing missile bases.

::Al's Outfits Worn in the Episode::
»First appearance: White dress coat and pants; white shoes, orange dress shirt; zebra-striped tie; some kind of pin on the right breast of his coat; lit cigar. Appears and leaves through the Imaging Chamber Door.
»Second, third, and fourth appearance: Multi-coloured fish-scaly dress coat; wide, gold belt; white dress shirt; white pants; blue-and-white-striped tie; black shoes; cigar. (no ICD)
»Fifth appearance: Orange vest; patterend dress shirt; gold tie; same pin from before, but on left breast; unlit cigar. (no ICD)

::Writers::
Paul Brown

::Director::
James Whitmore, Jr.

::Producers::
Deborah Pratt, Michael Zinberg, Harker Wade, Paul Brown, Jeff Gourson, Chris Ruppenthal

::Broadcast Date::
Wednesday, May 15, 1991.

::Regular Cast::
Scott Bakula as Sam Beckett
Dean Stockwell as Al Calavicci

::Guest Stars::
Timothy Carhart - Mac Elroy
Kurt Fuller - Burt "the Turtle" Rosencranz
Kim Flowers - Kate Elroy
Robert Hy Gorman - Stevie Elroy
Candy Hutson - Kimberly Elroy
:Co-Starring:
Delia Salvi as Mrs. Klingman
:with:
Patrick M. Bruneau - Eddie

::Guest Cast Notes::
Candy Hutson did the voice of Cera in three of the "The Land Before Time" movies.

Patrick M. Bruneau is not in the IMDb.

::Personal Review::
I would have to say this is one of Sam's easier leaps. Simple mission: stop Bert from getting shot, which Ziggy gave a 99% probability. The only real obsticle was keeping the kids from being so scared and Mac happy with Eddie's salesmanship. It's a pretty good episode that delves into the psyche of the people at the time of the Cuban Missile Crisis. Very intruiging!

::Best Line::
Sam: "Let's just pretend that you can travel into the future and look back at this time right now. You'll see that the Russians never hurt you or your family, and you'll see that you were spending a lot of your time and energy being afraid of something bad that never happened."

::Best Scene::
Sam is giving Mrs. Klingman a tour of the bomb shelter, and what he says triggers her memory of the Holocaust.

::Quotable Quotes::
»Sam: "Then why waste your money on a shelter?"
Mrs. Klingman: "You're right! You're not much of a salesman!"

»Al: "Long enough to see that you are a real mensh."
Sam: "Mensh?"
Al: "Mensh. It's means 'good guy'. It's a word that my fourth wife... third... third or fourth wife, Ruthie, used to use. She never used it about me, though."

»Stevie: "Whatcha doin'?"
Sam: "Nothin'. What are you doing?"
Stevie: "Nothin'. Wanna join me?"
Sam: "Maybe later."

»Al: "Annuals or perennials?" (pops up behind Sam burying shotgun shells)
Sam: "Do you have to sneak up on me?"
Al: "Well, I'm sorry, do you expect a hologram to knock?"

»Al: "Oh, 'Duck and Cover', I remember that. Isn't like an air-raid show for kids to duck and..."
Sam: "Yeah, it teaches them that if they hide under a picnic blanket, it works wonders against atom bombs."



Theme by - Mike Post
Music by - Velton Ray Bunch
Co-executive Producers - Deborah Pratt, Michael Zinberg
Supervising Producers - Harker Wade
Co-Producers - Paul Brown, Jeff Gourson
Produced by - Chris Ruppenthal
Written by - Paul Brown
Directed by - James Whitmore, Jr.
Executive Producer - Donald P. Bellisario

(flashing credits)
Associate Producer - James S. Giritlian

Executive Story Editor - Tommy Thompson
Director of Photography - Michael Watkins A.S.C.

Production Designer - Cameron Birnie
Edited by - Jerry U. Frizell A.C.E., Ken Denisoff
Unit Production Manager - Ron Grow
First Assistant Director - Ryan Gordon
Second Assistant Director - Kate Yurka

Casting by - Ellen Lubin Sanitsky
Set Decorator - Robert L. Zilliox
Costume Designer - Jean-Pierre Dorleac
Costume Supervisors - David Rawley, Donna Roberts-Orme

Sound Mixer - Barry D. Thomas
Stunt Co-ordinator - Diamond Farnsworth
Panaflex® Camera and Lenses by PANAVISION®

Supervising Sound Editor - Paul Clay
Music Editor - Donald Woods

This motion picture is protected under laws of the United States and other countries. Unauthorized duplication, distribution, or exhibition may result in in civil liability and criminal prosocution

Copyright © 1991 by Universal City Studios, Inc. All rights reserved.

Country of first publication: United States of Amercia. Univeral City Studios, Inc. is the author of this motion picture for purposes of the Berne Convention and all national laws giving effect thereto.

The charcters and events depicted in this photoplay are fictitious, and any similarity to actual persons, living or dead, is purely coincidental.