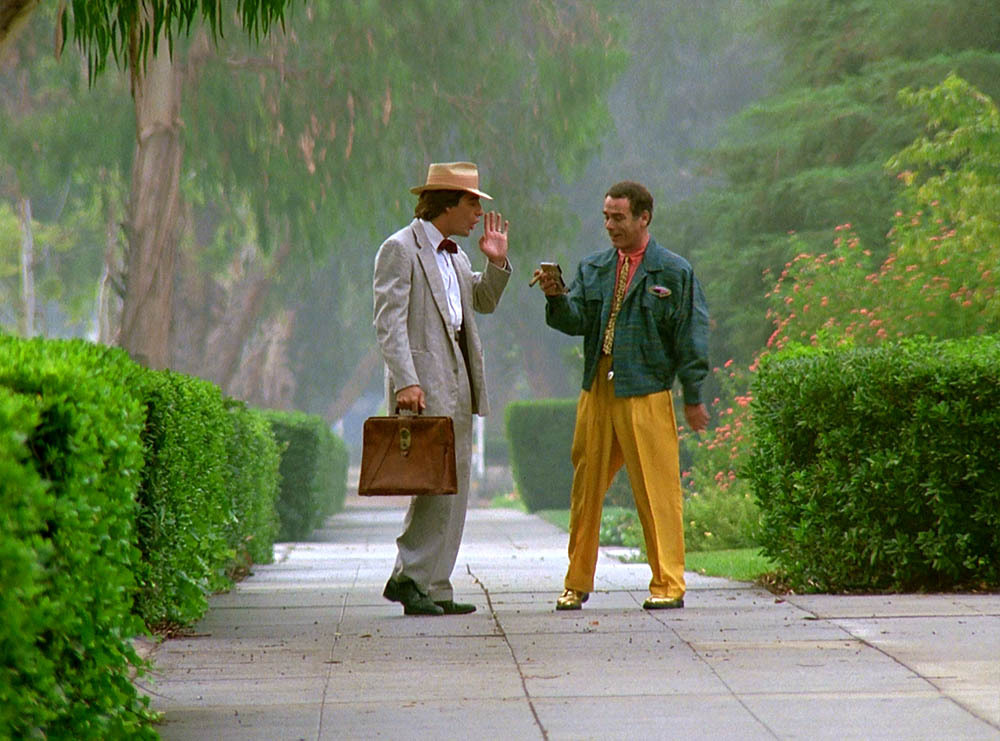 "So Help Me God"
---
Leap Date:
July 29, 1957
---
Episode Adopted By: Sherdran <AKA> Eleiece
Additional info provided by: Sues
Synopsis:
As a lawyer in the deep south, Sam has to try a case involving a black woman accused of murdering a prominent white man and uncover the mystery of why the woman says the committed the crime even though he thinks she did not.

Place
Leap Date
Project Date
Name of the Person Leaped Into
Songs
Music Artists
Project Trivia
Sam Trivia
Al Trivia
Al's Women
Al's Outfits Worn in the Episode
Miscellaneous Trivia
Kiss with History
Writers
Director
Producers
Crew
Broadcast Date
Guest Stars
Guest Cast Notes
Guests who appeared in other Quantum Leap episodes
Cast members who have passed away
Personal Review
Best Lines
Best Scenes
Say what? (things in the episode that make no sense)
Quotable Quotes
Awards
Place: Twelve Oaks Parish, Louisiana

Leap Date: July 29, 1957 (Monday)

Original air date: November 29, 1989 (Wednesday)

Name of the Person Leaped Into: Leonard Dancey

Songs/Music:
The only scenes with music of any sort were the opening scene (where the episode title appears) then later just at the end of Sadie Cotter's 'confession', and finally just the beginning of the last scene with Sam and Lila waiting for the bus. In those scenes the music was the poignant background music I remember from the Thanksgiving scenes in "The Leap Home, Part 1", with a bit of variation on it for the 'confession' scene.

Sam Trivia:
Remembers the TV show 'Perry Mason', whom he thanks for 'helping' him with some legal terms.


Miscellaneous Trivia:
In the car scene where the Captain is driving Sam home, the blue Chevrolet (I think it's a Chevy) behind them was the same car later used
as Dotty's car in '8 ½ Months';

The Bible verses Sam read to Myrtle: Galatians 5: 7-10

(Gal 5:7-10 KJV) (7)"Ye did run well; who did hinder you that ye should
not obey the truth? (8) This persuasion cometh not of him that calleth you. (9) A little leaven leaveneth the whole lump. (10) I have confidence in you through the Lord, that ye will be none otherwise minded, but he that troubleth you shall bear his judgment, whosoever he be."

SHMG was the first of five episodes set in Louisiana. Of the other four, 3 were in the Trilogy and the other was 'Southern Comforts". New Orleans was mentioned in at least two other episodes: The Great Spontini and Her Charm.

SHMG and Trilogy were set in two fictional Louisiana parishes. SHMG was set in Twelve Oaks Parish (Twelve Oaks is the name of the Wilkes Family Plantation in Margaret Mitchell's Book, "Gone With the Wind"), and Trilogy took place in Potter Parish. Only Southern Comforts, set in New Orleans, was in a real Louisiana parish (Orleans Parish).

Al's Outfits Worn in the Episode:
On the street with Sam - Dark golden yellow pants, salmon pink shirt, narrow leopard print tie, casual blue jacket with a lapel pin above the left breast pocket, gold shoes.

Next, in the courtroom scene when the trial is about to begin - Bright red pants, a white shirt with a black collar, black 'studs' on the shirt along the edge of the collar and black bands just above each cuff; a shimmery dark navy blue vest, a red & black tie with a square silver tie clip; red shoes and a red fedora with a narrow black band.


Sam's Outfits Worn in the Episode:
Sam's outfits were primarily light summer suits. He also wore gold-rim glasses and a wedding ring in this episode.

Leap-in: Light tan suit, light pink shirt with a black bowtie, a light tan fedora, and black shoes.

Next - A pale blue suit, white shirt, dark red bowtie with small white polka dots, and black shoes.

Next - (the trial begins scene) Tan suit again, this time with a tan and black striped bowtie, tan suspenders and a brown belt. Shoes were probably black.

Last scene (waiting for the bus with Lila)- Light gray suit, white shirt, small gray bowtie, and a narrow black belt with a gold buckle. His shoes were black.


Southern foods mentioned:
Pecan pie (*g*... I love the expression on Sam's face as he reluctantly follows Sugie into the house after she sultrily promises, "Honey, I'm gonna bake you a pecan pie...and let you play Rhett Butler tonight. ... Fiddle-d-de.");

Also mentioned were honey ham, potato salad, honey-coated chicken, key lime pie.


Writer: Deborah Pratt


Director: Andy Cadiff


Producers:
Supervising Producers: Deborah Pratt, Paul M. Belous and Robert Wolterstorff

Co-Producers: Paul Brown, Jeff Gourson and Chris Ruppenthal

Produced by: Harker Wade


Regular Cast:
Scott Bakula as Sam Beckett, and Dean Stockwell as Al Calavicci.


Guest Stars:
WILLIAM SCHALLERT (Judge Haller) - Born in 1922 in Los Angeles, Mr. Schallert begin his impressive 51 year acting career in 1951, and from
what I discovered, is still going strong. He's one of Hollywood's most
versatile character actors, and has performed in a number of comedies and sitcoms. However, William has also shown his mettle as an actor in a variety of dramatic roles as well.

Probably his most well known role was that of Patty Dukes' father in "The Patty Duke Show" from 1963-66. Another TV program on which he had
a regular role was 'The Many Loves of Dobie Gillis' (he played Mr. Pomfritt, a teacher). Much later in his career, Mr. Schallert also did a brief stint on the now defunct TV soap 'Santa Barbara'. More recently he has made guest appearances on such programs as The Torkelsons, Son of the Beach, Melrose Place and Star Trek: Deep Space Nine.

Mr. Schallert's nearly innumerable roles in his career include:

Starring Roles (Television):

The Torkelsons (1991)
Little Women (1979)
The Patty Duke Show (1963)
The Many Loves of Dobie Gillis (1959)

The list of Mr. Schallert's Guest Starring Roles (television) is
formidable, to put it mildly. Just a few of those roles include:

Son of the Beach (2001)
Melrose Place (1994)
Star Trek: Deep Space Nine 1993)
Magnum P.I. (1983)
Gunsmoke (1973)
Hawaii Five-O (1970)
Bewitched (1969)
CBS Playhouse (1968)
Star Trek (he played Nilz Baris) in The Trouble With Tribbles (1967)
Perry Mason (1962)
Bonanza (1962)
The Andy Griffith Show (1961)
The Jack Benny Program (1960)
Maverick (1959)
Have Gun, Will Travel (1958)
Playhouse 90 (1956)
Rawhide (1961)

Mr. Schallert's co-starring TV roles include:

Banacek (1973)
The Virginian (1973)
Four Star Playhouse (1955)

Some of his movie credits include:

The Man From Planet X (1951)
Them! (1954)
Gog (1954),
The Incredible Shrinking Man (1957)


BYRNE PIVEN (Captain Colbert Cotter): The richly talented Mr. Piven's career began in the early 1950s, with its primary focus being the
Broadway stage. Byrne Piven was a very accomplished and highly respected Shakespearian actor. He and his wife created and ran the Piven Theatre Workshop through whose doors have passed such notable actors/actresses (in their early career years) as Adian Quinn, Lili Taylor, and John and Joan Cusak.

One of Mr. Piven's favorite Broadway roles was The Man in 605 for which he received the Joseph Jefferson Award for Best Actor. A very small handful of Mr. Piven's numerous and successful Broadway/theatre
appearances included Hamlet, MacBeth, and King Lear. His performance as King Lear in the 2000-2001 season of the Piven Theatre Workshop (which he and his wife, Joyce, created and directed throughout their
40-something year careers) was his last appearance.

Byrne Piven's acting accomplishments off the stage included:

Movie credits:

Being John Malkovich (1999)
Very Bad Things (1998)
Trojan War (1997)
Wavelength (1996)
Lover's Knot (1996)
Miracle on 34th Street (1994)
Pyrates (1991)
Creator (1985)
The Double-Barrelled Detective Story (1965)

Mr. Piven's TV guest-starring roles included:

Cupid (1998)
Home Improvements (1997)
Fraiser (1996)
The A-Team (1986)
Miami Vice (1986)

Co Starring Roles:

The X-files (1996)


TYRA FERRELL (Lila Berry):
Some of Ms. Ferrell's movie credits include:
The Corner (2000)
Poetic Justice (1993)
White Men Can't Jump (1992)
Jungle Fever (1991)
Boyz N the Hood (1991)

TV Guest Starring Roles:

Law & Order: Special Victims Unit (2003)
Early Edition (1997)
ER (1994)
thirtysomething (1990)
Mr. Belvedere (1988)
The Bronx Zoo (1988)
Moonlighting (1985)
The Twilight Zone (1985)

Among Ms. Ferrell's movie/mini-series/specials are:

So Fine (1981)
Lady Beware (1987)
School Daze (1988)
The Exorcist III (1990)


KATHLEEN NOONE (Sadie Cotter) - Ms. Noone's television career includes several long running stints on such popular soap operas ('daytime
dramas') Sunset Beach, One Life To Live and As The World Turns. She
also spent 11 years as Ellen Chandler on All My Children for which she
won an Emmy.

Ms. Noone's other acting credits include:

Some of her TV credits:

Sabrina
Frasier
Ellen
Party of Five
Murphy Brown

TV Movie credits:

What Love Sees (1996)

Big Screen credits:

Citizen Ruth (1996)


KETTY LESTER (Myrtle): Little is known about her early career, which went on to include Broadway, television and even a recording career in the late 50s and early 60s. Her best-known song, "Love Letters" (and it's still a great song) hit #2 on the R&B charts (#5 on the pop charts)
in 1962.

Ms. Lester's acting credits include performances in:
Off Broadway:
Cabin In The Sky

Her television credits include:

Days Of Our Lives (a recurring role during the 1970s)
Little House On The Prairie (a recurring role as Hester Sue, also in 1970s)

Ms. Lester's film credits include:

The Prisoner of Second Avenue 1975
Uptown Saturday Night (1974)
Blacula (1972)


JOHN APICELLA (the deputy talking on the phone to Bo):

TV guest-starring appearances include:

The Drew Carey Show (2000)
Friends (2000)
The X-Files (1998)
Caroline in the City (1996)
Cybill (1995)
Seinfeld (1991)
China Beach (1990)
ALF (1990)
Alien Nation (1989)
Married...with Children (1989)

Some of Mr. Apicella's movie credits:

High Crimes (2002)
Norma Jean And Marilyn (1996)
Point Break (1991)
Wired (1989)


STACY RAY (Sugie Dancey): Ms. Ray's TV credits include:

TV movie:

Where Are My Children? (1994)

Besides QL, Ms. Ray's guest-starring roles on TV include:

Murder, She Wrote (1984), and
In The Heat of the Night (1988)


JOHN SHEPARD (Bo Parsons, the prosecutor) - Besides being an actor and a director for 20 years, Mr. Shepard has appeared on Broadway, off-Broadway and at many of the country's leading regional theatres. He's appeared in feature films and guest starred on soap operas and episodic TV. H's also directed professionally as well as taught at the University of Illinois, Wisconsin, Stevens Point and California State University, Irvine.

His feature film credits include:

Angel Eyes (2001)
Torch Song (1993)
Patriot Games (1992)

TV movie and program credits:

General Hospital (1991)
The Inconvenient Woman (1991)
Caught (1987)

Other notable TV guest appearances:

L.A. Law (1986)
Silk Stalkings (1991)
Spenser: For Hire (1985)

Guest Cast Notes:

William Schallert has served as President of S.A.G. (the Screen Actors'
Guild).

Ketty Lester appeared as one of the 'miscellaneous crew' in the cult
film Blue Velvet. Dean Stockwell appeared in Blue Velvet in the role of
Ben.

Byrne Piven's son, Jeremy, appeared in the movie Black Hawk Down.

In the 1970s Byrne starred as the riverboat captain in the Uncle Ben's
rice commercials.

The City of Evanston, Illinois granted an honorary street name in Mr.
Piven's memory because of the Piven Theater Workshop, which has
flourished in Evanston for 30 plus years and of which he was co-founder
and artistic director.


Cast members who have passed away (as of the date of the synopsis):
Byrne Piven (Captain Cotter), age 72, died February 18, 2002 of lung
cancer.


Personal Review:
The locale of 'So Help Me, God' - the Deep South ... Louisiana, one of the most humid states in the American South [a fact I can attest to since I live less than a 30 minute drive from to New Orleans]...lends itself to the sultry, passionate undertones of the storyline. SHMG, in a way, reminds me, after a fashion - of a couple of classic 'Deep South' stories, specifically, Cat On A Hot Tin Roof, and the other, that one set in New Orleans, A Streetcar Named Desire.

The hot, humid summer heat --evidenced in the court room scenes with
people endlessly fanning themselves...the fan in the judge's chambers...the way Lila's skin gleamed with perspiration in the scenes in the stifling visitors' room at the jail and in the courtroom... the sweat stains on Sam's shirts -- was, without doubt, the best 'prop' in the entire episode. It keeps the tension at a slow, subtle simmer that you know, that you can feel slowing building toward a rolling boil in the pressure cooker that is the storyline. And that balcony scene between Sam and Sadie Cotter oh so subtly increases that simmering. Miss Sadie's vague, staring off into the distance response of, "Sometimes I get the feelin' they're never comin' back," as she slowly fans herself adds to that underlying simmer. Can't you feel that single drop of sweat trickling down your spine beneath your sticky clothes as you stand there in that humid late July evening heat, looking up at her, wondering...

As a reader, viewer and especially as a writer, I tend to prefer drama -
well written and/or acted drama - which is why 'So Help Me God' is among my favorite dramatic QL episodes.


Best Line(s):
"It doesn't make what he did right."


Best Scene:
Without a doubt, IMO, the best scene was between Sam and Lila in the
visitors' room at the jail:

Sam: "Did he rape you?"

Lila: "Some would say so. Some not."

Sam: "What would you say?"

Lila (turns her head to look up at Sam): "Me and my momma buried seven
brothers and sisters in that bayou that Miss Sadie took me out of. I
wasn't givin' no one no reason to send me back. ..so I let him. Is that
rape?"

Sam (fervently): "Yes."

Lila: " Well if it was, it was only that first time. After that...Houston was in love with me. Is that rape?"

Sam (still fervent): "It doesn't make what he did right."

The most riveting scene:
Without question, it was Sadie Cotter's confession in the court room.


Quotable Quotes:
Al: "The best Ziggy can come up with is that you're here to play. oh,
play Rhett Butler..."

Sam: "No! No way! Tell Ziggy to shove that!" and,

Sugie (mortified) to Sam in the park: "If Papa was alive, he'd die!"

"Tell Ziggy to shove that!"


Say what?
July 29, 1957 was a Monday. To just watch SHMG and follow the flow of the story, it's possible that most viewers figured that, following the flow of the story, the leap took only 2 or 3 days. But as I watched the SHMG, really listening when the judge adjourns court until Monday morning, got me to wondering. That's when I checked a perpetual calendar and discovered that 7/29/57 was a Monday. If Deborah Pratt (she wrote this episode) did her homework and checked a perpetual calendar as I did, then that means that this leap lasted at least a week; more likely 8 or 9 days given the suggestion of time passage by each new beginning courtroom scene. My guess is that they picked the date out of the air, possibly figuring it was a Thursday or Friday, probably figuring the time span of this leap to be about 3 days. Based on just the episode itself, my guess is the latter.