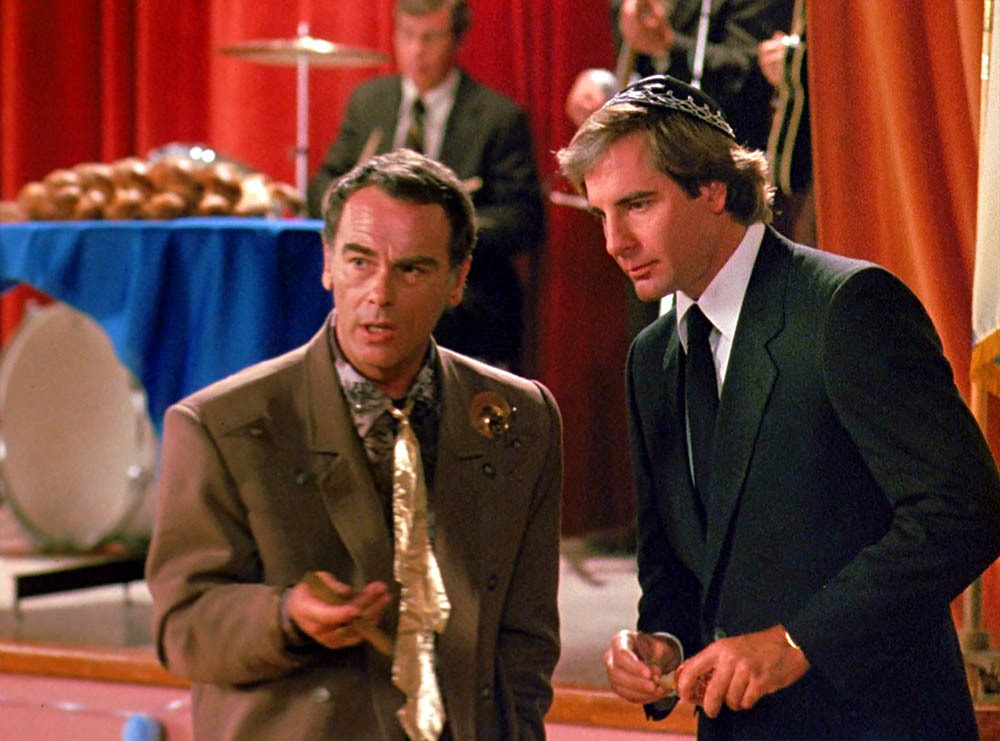 "Thou Shalt Not..."
---
Leap Date:
February 2, 1974
---
Episode adopted by: Sherdran <AKA> Eleiece
Synopsis:
As a Rabbi, Sam must prevent a Jewish family from falling apart when the wife of his brother contemplates having an affair. Her husband is a bitter man due to the loss of their son and has stopped communicating with their daughter as well. Sam has to bring them all together and save the family.

Place
Leap Date
Project Date
Name of the Person Leaped Into
Songs
Music Artists
Project Trivia
Sam Trivia
Al Trivia
Al's Women
Al's Outfits Worn in the Episode
Miscellaneous Trivia
Kiss with History
Writers
Director
Producers
Crew
Broadcast Date
Guest Stars
Guest Cast Notes
Guests who appeared in other Quantum Leap episodes
Cast members who have passed away
Personal Review
Best Lines
Best Scenes
Say what? (things in the episode that make no sense)
Quotable Quotes
Awards
"Thou Shalt Not..."

Leap Date:
February 3, 1974 (Sunday)

Name of the Person Leaped Into:
Rabbi David Basch

Place:
Los Angeles, California

Kiss with History:
The gasoline shortage / lines at the gas pumps.
Sam performs the Heimlich Maneuver on Dr. Henry J. Heimlich, thus giving the doctor the idea, which he publishes that year.

Music by:
Mike Post

Writer(s):
Tammy Ader

Director:
Randy Roberts

Supervising Producers:
Deborah Pratt, Paul M. Belous and Robert
Wolterstorff

Co-Producers:
Paul Brown, Jeff Gourson and Chris Ruppenthal

Original Broadcast Date:
November 15, 1989 (Wednesday)


Songs/Music:
Popular songs:
"Locomotion" by Little Eva, and
"Killing Me Softly" by Roberta Flack


Jewish Songs:
"Hava Nagila"
"The Mourner's Kadddish" (the song/prayer sung in the last scene in the graveyard; Joe was also reciting the last lines of it as the scene begins)


Jewish rituals:
Karen's Bat Mitzvah:
The Bat Mitzvah is the ceremony which takes place when a child is
thirteen years old, signifies the point at which that child has acquired
enough maturity, responsibility and knowledge to be considered an adult
for religious purposes.


The Blessing Over The Bread (Ha-Motzi):
Barukh atah Adonai Elohaynu melekh ha-olam
Blessed are You, Lord, our God, King of the Universe

ha-motzi lechem min ha-aretz. (Amein)
who brings forth bread from the earth. (Amen)

The Blessing Over the Bread (Ha-Motzi) represents the Lord's
provision...and gives thanks to the Lord for all the bounty of our
lives.


The Hora:
A lively traditional Jewish dance usually performed at weddings and
the celebratory meal after a Bar or Bat Mitzvah.


The setting of the headstone:
It is a custom for friends and family to assemble at the unveiling of
a grave stone, usually a year after death.


The Mourner's Kaddish:
- This is the prayer Joe Basch was reciting - as well as being so
beautifully sung - in the cemetery. (The words of the Mourner's Kaddish
-in Hebrew and English):

THE MOURNER'S KADDISH - (a prayer of remembrance) ... a blessing of
memory.

Yit-ga-dal ve-yit-ka-dash she-mei ra-ba be-al-ma di-ve-ra
chi-re-u-tei,

ve-yam-lich mal-chu-tei be-cha-yei-chon u-ve-yo-mei-chon u-ve-cha-yei

de-chol beit Yis-ra-eil, ba-a-ga-la u-vi-ze-man ka-riv ve-i-me-ru:
a-mein.

Ye-hei she-mei ra-ba me-va-rach le-a-lam u-le-al-mei al-ma-ya.

Yit-ba-rach ve-yish-ta-bach, ve-yit-pa-ar ve-yit-ro-man ve-yit-na-sei
ve-yit-ha-dar

ve-yit-a-leh ve-yit-ha-lal she-mei de-ku-de-sha be-rich hu, le-ei-la min
kol

bi-re-cha-ta ve-shi-ra-ta tush-be-cha-ta ve-ne-che-ma-ta da-a-mi-ran
be-al-ma,

ve-i-me-ru: a-mein.

Ye-hei- she-la-ma ra-ba min she-ma-ya ve-cha-yim a-lei-nu ve-al kol
Yis-ra-eil

ve-i-me-ru: a-mein.

O-seh sha-lom bi-me-ro-mav, hu ya-a-seh sha-lom a-lei-nu ve-al kol

Yis-ra-eil, ve-i-me-ru: a-mein.

***

Let the Glory of God be exalted, let God's great name be hallowed in the
world whose

creation God willed. May God's rule soon prevail, in our own day, our
own lives, and

the life of all Israel, and let us say: Amen

Let God's great name be blessed for ever and ever.

Let the name of the Holy One, blessed is God, be glorified, exalted, and
honored, though

God is beyond all the praises, songs and adorations that are uttered in
this world, and

let us say: Amen.

May there be abundant peace from heaven, and life for us and all Israel,
and

let us say: Amen.

May the one who makes peace in the high heavens, make peace descend on
us and

upon all Israel, and let us say: Amen.*


(*Website where information was found
www.uahc.org/congs/ny/ny054/ReligiousLiving/OnDeath.HTM)

and,


Putting stones on the grave:
The origin of the custom is uncertain...the most common explanation is
that placing stones is a symbolic act that indicates someone has come to
visit and the deceased has not been forgotten...* [*Website where
information was found: www.us-Israel.org/jsource/Judaism/graves.html])


**Also, the leap date was in the Jewish year 5734


Personal Review:
Dealing with and acceptance of the death of a loved one, (especially a
child) is one of the most difficult situations any of us will face in
life. Sam mission in this leap was three-fold and intertwined: (1) Save
Joe and Irene's marriage; (2) prevent Karen's alienation from her father
because of his fixation on his son (Danny); and (3) by helping Joe
accept and deal with the loss of his son. I like this episode because
it focuses on the importance of family as well as showing how easily it
can be destroyed.


Al Trivia:
In this episode we learn that Al's third wife, Ruthie, was Jewish. We
also learn that he apparently learned some Hebrew from Ruthie (..."She
taught me the basics...") since he helps Sam out by reciting the
traditional 'Blessing Over the Bread' and guiding him through the brief
ritual. He also had to show Sam the steps to the Hora ("I love the
Hora. I saw 'Fiddler On The Roof'.... (counts on his fingers) ... 5
times.")


Miscellaneous Trivia:
Sam tried using the word 'sushi' while playing Scrabble with Karen but
had to withdraw it because she didn't recognize it. He had to settle
for, "...'hose'. A big 6 points."

Sam also 'introduces' the Heimlich Manuever to Dr. Heimlech (at the bake
sale).


Say What:
When I checked to see what day of the week the leap date, February 3,
1974, fell on I discovered that it was a Sunday. When I researched
Jewish customs and rituals, I discovered that Bar and Bat Mitzvah
ceremonies are almost always held on Saturday, the Jewish Sabbath.


Al's Outfits in this episode:
First (at Karen's Bat Mitzvah party) Al wore a dark cocoa brown suit and
shirt with a silver tie and gold shoes. He also wore a lapel pin and a
dark-banded watch on his left wrist. He held a cigar in this scene.

Next (in the Baschs' living room after Irene and Joe argued) Al wore
dark pants and a bright orange shirt with a dark brownish-orange
patterned brocade vest, and a silver 'fall' tie, and a narrow orange
belt. No cigar.

Last (at the cemetery) was a bright blue suit with a lightning bolt pin
on the right lapel, a white shirt and a narrow white tie.


Al's best lines:
At the party: "I agree. What's wrong with a good, old-fashioned
one-night stand?" ; and

The beach scene: "Sam, he hit you! That's great! That means he still
loves her. Let him hit you again."
Sam's Best Line:
"You've lost a son. Don't lose a daughter, too."


Regular Cast:
Scott Bakula and Dean Stockwell


Guest Stars:
Russ Tamblym
Terri Hanauer
James Sutorius
Lindsey Fisher
Jill Jacobson


Guest Cast Notes:
Russ Tamblyn (Bert Glasserman) - Two of Mr. Tamblyn's most well-known film roles were as Gideon in the film classic Seven Brides for Seven
Brothers, and as Riff in West Side Story. He also played Dr. Lawrence
Jacoby in both the TV film and series Twin Peaks.


Terri Hanauer (Irene Basch) - A few of Ms. Hanauer's film credits (TV)
include: Tuesdays With Morrie (1999) ; Inferno (1998); and Tonya &
Nancy: The Inside Story (1994). Also, besides her appearance as Irene
Basch in the QL episode entitled 'Thou Shalt Not...' a few of Ms.
Hanauer's many other guest appearances on other TV programs include:
7th Heaven (1996), Chicago Hope (1994), Touched By An Angel (1994), Night Court (1984), Baywatch 1989, and Cheers (1982).


James Sutorius (Joe Basch) - Before his appearance on QL, a few of Mr.
Sutorius' TV/movie credits include an appearance in TV show "The
Pretender" starring Michael T. Weiss. He also appeared in the 1988 TV
movie "Perry Mason: The Case Of The Avenging Ace". His big screen movie credits include: "Cruising" (1980); "I'm Dancing As Fast As I Can"
(1982); and, "Windy City" (1984).


Lindsay Fisher (Karen Basch) - Prior to her appearance as Karen Basch
on Quantum Leap, Lindsay Fisher made guest starring appearances in such other TV shows as: The Wonder Years (1989 & 1991) , and Roseanne (3 appearances in 1990)


Jill Jacobson - (Shirley Winnick - she confessed to Sam about having an
affair with Bert)- Among Jill's other TV guest-starring roles are
appearances on: Star Trek -The Next Generation, Murphy Brown, Uncle
Buck, Who's the Boss?, Newhart, My Sister, Sam, and numerous appearances on Falcon Crest.




Best Scene:
Without a doubt, the best scene of this episode is the beach
house/beach scene:

Joe (walks in the beach house to see Irene in Sam's arms) his voice
tight and accusing: "My brother and my wife. I should have known." ... then,

Joe, on the beach, angry and accusing, pent up emotions and now revealed long held resentful feelings against his brother coming out: "Were you eyeing her at my dinner table? Did it happen in my home?"

Sam: You don't know what you're talking about."

Joe: "Little Davy, always the smart one, always the best. You always
got what you want. Well, not my wife, David. Not my wife!" ... then
after knocking Sam down for the 3rd time, he spits: "I'll never forgive
you for this, Irene."

Sam: "For this or for Danny? I mean, that's what this is all about.
You know that Irene and I are not having an affair. You've never
forgiven Irene for letting Danny go to Europe..."


Quotable Quotes:
"You've lost a son. Don't lose a daughter, too."

Worst thing about the episode:
Bert Glasserman. Al was right. What a yutz!