2022 - "Episode Three"
---
Leap Date: October 17, 1989
---
NBC has requested a new Pilot episode! The episode shown on this page will still air in some way - perhaps episode three?
First look images from Deadline.com:
MY REVIEW
I've read a copy of the script.

This is my spoiler-free review (

keeping in mind the script I was given was done so prior to shooting this episode and prior to the upcoming reshoots - things can change in production

):

The characters jump off the page and develop quickly. There is plenty of action, heart, mystery, and excitement throughout. There are callbacks to the original series. The updates described in the script bring us into the present nicely. The chemistry written into the characters is very good, and I hope to see it come to life onscreen! As has been mentioned before, this is ABSOLUTELY a sequel to the original series. It is NOT a remake. While I am sure it will eventually become it's own entity as the show goes to series, the writers and producers are careful to remember where this came from and what the fans want it to be! I see a few fans posting on social media saying "No Sam, no Al, not for me." Folks, if you miss this, you'll kick yourself in the butt (as Al would say) for not watching it LIVE the day it airs. It's VERY good. There is a reason and a purpose for each character. The script flows well and by the end, you will want more!

When I first read the brief synopsis put out online, I thought "this can't be real". I was not excited. However, after reading this new story, seeing the photos of the cast on-set together, and feeling the excitement in their faces as they post teasers on their personal social media accounts, I can not be any more positive about what this continuation can and will undoubtedly bring. I said to Deborah the other day, "This is the beginning of the beginning." I feel that this is the perfect time for Quantum Leap to return, with a great team behind it, and I have a feeling this will stick around. True Quantum fans are going to love it!

Keep Leaping,

Brian Greene
Al's Place Bartender
QUANTUM LEAP – SERIES REGULARS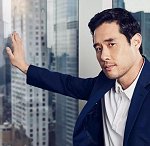 Dr. Ben Song (Portrayed by Raymond Lee) – Ben is a first-generation American, a world-renowned physicist, and a man of faith. He's also working on Quantum Leap, a time travel project. But when he uses the project on himself, he's transported back to the late 80s and struck with a bout of amnesia – forgetting what made him time travel in the first place.

Addison (Portrayed by Caitlin Bassett) – Addison is a smart, witty, fearless ex-military operative who now serves as a project lead at Quantum Leap HQ. She's in charge of the technology they use to communicate with the past, and tries to rescue Ben from his time-flung existence. Addison is the Observer.

Ian Wright (Portrayed by Mason Alexander Park) – Quantum Leap's nonbinary chief architect of the AI program, who prefers the company of computers to that of other people.
Herbert "Magic" Williams (Portrayed by Ernie Hudson) – A Vietnam vet and current head of the time travel project at Quantum Leap. Herbert "Magic" Williams uses his no-nonsense personality and aura of control to keep the Pentagon at bay while the team tries to rescue Ben.
Jenn (Portrayed by Nanrisa Lee) – Head of security at Quantum Leap HQ. Described as quirky but formidable, she makes it her mission to figure out how Ben could have both leapt back in time and erased all evidence of the leap in the future.




ADDITIONAL GUEST STARS

Naomi (Portrayed by Jewel Staite) - A wife attempting to ask her husband for a divorce. Unfortunately, she doesn't realize Ben currently occupies her husband's body.


Jason Harvey (Portrayed by Everett Andres) - Son of the leapee and Naomi.
Janis – In the original casting call, a mysterious woman who was working with Ben in the present before his leap through time, whose true motives remain unknown. Casting is currently unknown, and no one fitting the description was seen on set in Vancouver. Will this character reveal herself in the series?
---
SYNOPSIS
It's been 30 years since Dr. Sam Beckett (Scott Bakula) stepped into the Quantum Leap accelerator and vanished. Now a new team has been assembled to restart the project in the hopes of understanding the mysteries behind the machine and the man who created it.

The setting of this leap is during the 1989 San Fransisco earthquake.


Scraps of knowledge currently available:


"Unlike the original pilot (…) we are going to see Ben leap into the middle of an historical event (discovered to be the San Fransisco earthquake in 1989). Ben is not there to change anything about the outcome (…) but that historical event is the backdrop of the episode"

"The heart of this show is exactly the same in so many ways. And the domestic quality, if you will, of the leaps, I think is going to be something that we continue to see that that these are real people, everyday people"

The Project will be shown just as much as the past

It's an ensemble show – "everyone has a pretty heavy role to play"

"Being lost in time is going to be a result of [Ben] leaping prematurely"

Ziggy is in the pilot: "they are offline at the beginning of the pilot, but we won't go into any detail… eventually, Ziggy boots up" and will be providing information: "we can confirm that there are some some lines of dialogue that involve percentages of chances."

"Ian [Wright] will probably have a lot to do with Ziggy." – pointing out what the character description says he
'prefers the company of computers to that of other people.'

There is going to be a handlink: "It was described to us by the observer as a smartphone on steroids. And it's colorful"

Sam and Al are part of the story: "they are going to establish in the pilot that Al passed away a few months before the events of the pilot." Sam, meanwhile, is mentioned "numerous times", and the new pilot "is absolutely a sequel."

About Magic: "it'll be really interesting to see the direction that they take that character, because obviously, there's only so much that he's going to get to do in the pilot (…) in future episodes there's there's a lot of stuff they could explore."

"You, you fan of the classic series, you're in good hands, because the producers love, love the old show. And while they are branching off, and they're doing something new, they are going to treat our old characters and the old feel of the show with love."
PRODUCTION PHOTOS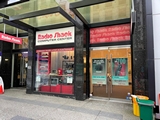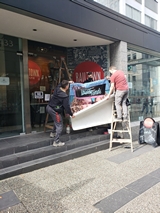 PRODUCTION VIDEOS

See several production videos on Al's Place YouTube Channel!

Don't forget to hit the subscribe button!





PRODUCTION CREDITS



Writer:

Steven Lilien
Writer:

Bryan Wynbrandt
Director: Helen Shaver


Assistant Director:

Warren Hanna


Second Assistant Director:

Paul Kalkman


Second Assistant Director:

Dan Mansfield


Third Assistant Director:

Cassie Turgeon


Trainee AE:

Shubham Chhabra



Cinematographer:

Jimmy Lindsey, ASC

Executive Producer for I Have an Idea! Entertainment:
Steven Lilien

Executive Producer for I Have an Idea! Entertainment:
Bryan Wynbrandt

Executive Producer for Quinn's House Productions:
Martin Gero

Executive Producer for Belisarius Productions:
Donald P. Bellisario

Executive Producer:

Deborah Pratt


Executive Producer:

Helen Shaver


Producer:

Ryan Lindenberg
Line Producer:

John G. Lenic
Casting Director:

Kamala Thomas
Casting Director:

Candice Elizinga


Extras Casting:

Sandra Ken Freeman
Production Manager:

Kathy Houghton
Production Co-ordinator:

Corinne Buffel
Location Manager:

John Alexander
Assistant Location Manager:

Robin MacDonald
Assistant Location Manager:

Jason Snyman


Location Supervisor:

W Robert "Fluffy" Millar


Location Supervisor:

Kassandra Rockandel


PA:

Alexander Durand


PA:

Bethany Walker


PA:

Nick Wilkenson
Office PA:

Gurpreet Dhaliwal


Focus:

'Daryl' and 'Herb'


Boom Operator:

'Chris' and 'Alex'


Unknown Crew:

Meg Fister


Production Designer:

Margot Ready


Hair:

Debra Johnson


Property Master:

Dean Richards Wiancko


Production Sound Mixer:

Kristian Bailey


Rigging Grip:

Scott Andrew Armstrong


A Cam Dolly Grip:

Ema Mac Duff


Casting Associates:

Melanie J. Brown, Feyannie Hung


Casting Assistant:

Chloe Curran


Set Designer:

Joanne Smith-Wong
Costume Designer:

TBC.

A GEP Quantum, Inc. Production
Network:

NBC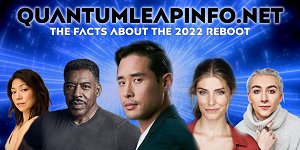 NOTE: Most info below is taken from quantumleapinfo.net and is archived here on this page. Thanks to Matt Dale! Please click the banner above for all the latest news, production photos, and video from the new Quantum Leap.