2022 "The Pilot Episode"
---
Leap Date: TBA
---
SYNOPSIS:
From That Hashtag Show:
It's been 30 years since Dr. Sam Beckett stepped into the Quantum Leap accelerator and vanished. Now a new team has been assembled to restart the project in the hopes of understanding the mysteries behind the machine and the man who created it.
Leading the new Quantum Leap project is Dr. Ben Seong. Ben is a first-generation American, a world-renowned physicist, and a man of faith. One of the key scenes in the pilot episode is Ben's engagement party. His fiance is Addison (Caitlin Bassett), a witty, fearless ex-military operative. When Ben uses the Quantum Leap project on himself, disappearing into the past, Addison takes over the technology to communicate with the past.
In addition to the engagement party, the pilot episode will also feature a major heist. A group of criminals attempt to break into the Smithsonian to nab the ultimate prize: the Hope Diamond. It's not a crime totally motivated by greed though; one of the thieves just wants to make enough money to afford life-saving surgery for his wife.
While NBC has already found it's series leads,

casting is currently underway

for supporting roles for the pilot episode. These include several guests at the engagement party, at least one of the criminals involved in the heist, and the ill wife, among others.



Broadcast Date:


Monday, September 19, 2022: 10pm on NBC
QUANTUM LEAP – SERIES REGULARS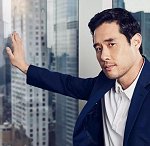 Dr. Ben Seong (Portrayed by Raymond Lee) – Ben is a first-generation American, a world-renowned physicist, and a man of faith. He's also working on Quantum Leap, a time travel project. But when he uses the project on himself, he's transported back to the late 80s and struck with a bout of amnesia – forgetting what made him time travel in the first place.

Addison (Portrayed by Caitlin Bassett) – Addison is a smart, witty, fearless ex-military operative who now serves as a project lead at Quantum Leap HQ. She's in charge of the technology they use to communicate with the past, and tries to rescue Ben from his time-flung existence. Addison is the Observer.

Ian Wright (Portrayed by Mason Alexander Park) – Quantum Leap's nonbinary chief architect of the AI program, who prefers the company of computers to that of other people.
Herbert "Magic" Williams (Portrayed by Ernie Hudson) – A Vietnam vet and current head of the time travel project at Quantum Leap. Herbert "Magic" Williams uses his no-nonsense personality and aura of control to keep the Pentagon at bay while the team tries to rescue Ben.
Jenn (Portrayed by Nanrisa Lee) – Head of security at Quantum Leap HQ. Described as quirky but formidable, she makes it her mission to figure out how Ben could have both leapt back in time and erased all evidence of the leap in the future.




GUEST CAST

TBA


---
PRODUCTION PHOTOS
Coming soon?
PRODUCTION VIDEOS


Coming soon?









PRODUCTION CREDITS



Writer:


Writer:


Director: Thor Freudenthal


Assistant Director:




Second Assistant Director:




Second Assistant Director:




Third Assistant Director:




Trainee AE:





Cinematographer:



Executive Producer for I Have an Idea! Entertainment:
Steven Lilien

Executive Producer for I Have an Idea! Entertainment:
Bryan Wynbrandt

Executive Producer for Quinn's House Productions:
Martin Gero

Executive Producer for Belisarius Productions:
Donald P. Bellisario

Executive Producer:

Deborah Pratt


Executive Producer:




Producer:


Line Producer:
Casting Director:


Casting Director:




Extras Casting:


Production Manager:


Production Co-ordinator:


Location Manager:


Assistant Location Manager:


Assistant Location Manager:




Location Supervisor:




Location Supervisor:




PA:




PA:




PA:


Office PA:




Focus:

'


Boom Operator:




Production Designer:




Hair:




Property Master:




Production Sound Mixer:




Rigging Grip:




A Cam Dolly Grip:




Casting Associates:




Casting Assistant:




Set Designer:


Costume Designer:



A GEP Quantum, Inc. Production
Network:

NBC