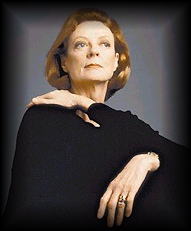 Played by: Maggie Smith
Job Description: Nurse
Date of birth: May 7, 1957 (age: 63)
Place of birth: London, England
Parents: Theodore and Lavinia Hugen (deceased)
Siblings:
Douglas Hugen (older brother - deceased)
Theodore Hugen, Jr. (older brother - deceased)
Chad Darrell (younger brother - deceased)
Josephine Hugen Thrumford (younger sister -- age 57)
Marital Status: Widow
Children: A son, Maxwell, AKA Max
Free Time Activities:
Likes to take long walks around the island, bird watching, though there are primarily just seagulls to see; she also likes movies.
Miscellaneous Information: Her only other relative that lives in the complex, besides her son, is her nephew, Dr. Peter Hugen.
Her son is the result of being raped shortly after arriving at the complex following the death of her husband shortly before their first wedding anniversary; Max's father is Edward Grant.