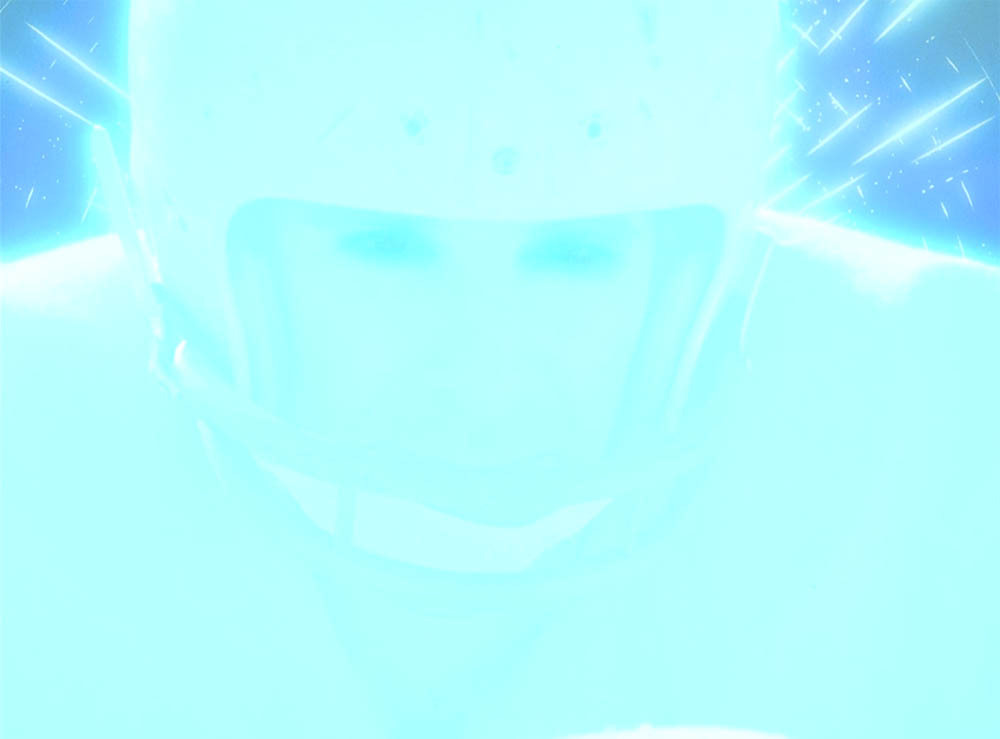 "All-Americans"
---
Leap Date:
November 6, 1962
---
Episode Adopted By: Sherdran <AKA> Eleiece
Additional Info provided by Shane Smith
Synopsis:
Sam is a Hispanic high school football player who must stop his best friend from throwing an important game and ruining his life. In the original history, "Chuey" throws the game because of a betting scheme that his mother's landlord pressures him into. Rooooaaarrr Jaguars!

Place
Leap Date
Project Date
Name of the Person Leaped Into
Songs
Music Artists
Project Trivia
Sam Trivia
Al Trivia
Al's Women
Al's Outfits Worn in the Episode
Miscellaneous Trivia
Kiss with History
Writers
Director
Producers
Crew
Broadcast Date
Guest Stars
Guest Cast Notes
Guests who appeared in other Quantum Leap episodes
Cast members who have passed away
Personal Review
Best Lines
Best Scenes
Say what? (things in the episode that make no sense)
Quotable Quotes
Awards
"ALL AMERICANS"

Place: El Camino High School in Southern California


Leap date: November 6, 1962 (Tuesday)


Original airdate: January 17, 1990 (Wednesday)


Name of the Person Leaped Into: Eddie Vega


Songs/Music:
"Big Girls Don't Cry" by Frankie Valli & the 4 Seasons
"Tequila" by The Champs
"The Stripper" by David Rose
"The Twist" by Chubby Checker
"Sleepwalk" by Sanyo & Johnny
"La Bamba" by Richie Valens (heard twice; first, it was played for Sam to lead calisthenics; the second time was at the championship victory party.


Sam Trivia:
When Sam goes to the kitchen to get the salsa for Celia, Al's comment of, "There was this one cheerleader with these beautiful pomelos," tweaks Sam's memory… "Al, pomelos are grapefruits…." reminding him that he speaks Spanish.

Earlier, talking with Chuey and Eddie's dad at the truck, Sam memory gets tweaked again, when he tries to twist the top off a bottle of Coke for Carla, and is reminded that twist-off tops on soft drink bottles hadn't been invented yet. At the same time he also remembered that Diet Coke also hadn't yet been invented.

The next day at practice, Chuey telling him that the coach says he has to lead calisthenics combined with Al's comment, "I hate calisthenics… unless they're being led by Jane Fonda!" triggered Sam's memory about
aerobic exercise classes. But his idea of calisthenics comes off looking – to the coach – like Eddie's clowning again, and Sam wound up doing 15 laps around the field…and then an additional 20.


Miscellaneous Trivia:
Al carried a cigar throughout most, if not all, of this episode.

Also, at the championship game, Al mentioned to Sam that he had been
watching Super Bowl XXX, which meant that the date back at the Project
was Sunday, January 28, 1996, a time difference of almost 28 years from
the time Sam was in. [BTW…the Pittsburgh Steelers played the Dallas
Cowboys at Sun Devil Stadium in Tempe, Arizona; Dallas beat Pittsburgh
27-17.]

The most notable bit of miscellaneous information is that Richard Coca
(Chuey Martinez) and Scott most recently worked together again in 1999
in the film Luminarias in which Scott had the leading male role (Joseph)
In the scene at the party after Sam gets the coke, he leaves to talk to Al and it cuts to an extierior look of the party. It's actually a scene from the movie "Labamba." The guy on the indian bike is Esai Morales.


Al's Outfits Worn in the Episode:
1) - Leap in scene on the football field - Very pale blue leisure suit, brightly-colored, sort of large patterned floral shirt, a dark (dark blue, I think) bolo tie, two-tone shoes, narrow silver bar pin on left lapel; black-banded watch with gold face.

2) - The football practice scene: Dark blue trousers & vest with a dark/medium blue patterned shirt and a blue & white diagonally striped tie. Black belt with a silver buckle.

3) - The championship game and the victory party after the game – Medium-darkish brown jacket, light-colored trousers (sort of an off-beige or buff); a dark yellow, gold & black striped shirt and a shimmery black tie and black shoes.


Personal Review - I liked the music, and Coach was a hoot!


Best Line:
Coach to Sam in the locker room: "Vega! In thirty-two years of coaching that was the ugliest pass I've ever seen…but I loved it! ROAAAR JAGUARS!"


Best Scene:
At the party when Sam goes after Ruben to confront him about Celia – Sam's just warned him to stay away from Chuey and Celia:

Ruben, up in Sam's face, tone menacing: "I don't think I heard you,
punk."

Sam: "I'll write it down if you can read."


Writer(s):
Paul Brown and Donald P. Bellisario


Director:
John Cullum – Mr. Cullum also guest-starred in another QL espisode, "Catch A Falling Star". In real life, in 1965 the multi-talented Mr. Cullum understudied Richard Kiley in the Broadway production of "Man of La Mancha." (In 1967 Mr. Cullum took over the role of Don Quixote for several months.)


Producers:
Supervising producer: Deborah Pratt
Co-producer(s): Paul Brown, Jeff Gourson and Chris Ruppenthal
Producer: Harker Wade


Regular Cast:
Scott Bakula and Dean Stockwell


Guest Stars:
Richard Coca (Chuey Martinez)
Ruth Britt (Celia Martinez)
Pepe Serna (Manuel Vega)
Fausto Bara (Ruben de Guerra)
Robert Benedetti (Coach)


Guest Cast Notes:

Richard Coca (Chuey Martinez) - has appeared in a number of big screen
movies, including:

The Mexican - 2001
Luminarias - 1999 (in which Scott Bakula had the leading male role of
Joseph).
Selena - 1997
The Truth About Cats & Dogs - 1996
Parent Trap 3 - 1989

TV programs in which Richard Coca has made a guest appearance include:

MacGyver (1991)
Night Court (1990)
21 Jump Street (1988)
Hill Street Blues (1986)
Knight Rider (1984)


Ruth Britt (Celia Martinez, Chuey's mom)

Film appearances:

The Underachievers (1988)
Steele Justice (1987)

Ms. Britt has also made guest-star appearances other TV shows which
include:

Silk Stalkings (1992)
MacGyver (1989)
Hunter (1989)
Airwolf (1984)
B.J. and the Bear (one appearance some time in 1979-1981)
Quincy, M.E. (1978)


Pepe Serna (Manuel Vega, Eddie's father) - was born in Corpus Christi,
Texas.

Mr. Serna's film credits (starring roles) include:

The PJs (1999)
Hotel Malibu (1994)

Pepe's TV show guest-starring roles are numerous, among them:

American Family (2 appearances in 2002)
Sliders (1998)
Diagnosis Murder (1995)
DEA - (4 appearances in the recurring role of Ruben Monteban 1990
-1991)
Miami Vice (2 appearances in the role of Oswaldo Guzman 1986 & 1987)
The A-Team (1986)
Hill Street Blues (1986)
Knight Rider (1985)
Hill Street Blues (1984)
Scarecrow and Mrs. King (1984)
Barney Miller (1982)
Kung Fu (1973)
Cannon (1971)

Pepe also had co-star status in an episode of Baretta in 1976.


Fausto Bare (Ruben de Guerra) -

Mr. Bara's film credits include:

An American Tail: Fievel Goes West (1991)
The Eliminators (1986)

Starring Roles in TV:

Renegades (1983)

Besides his appearance on Quantum Leap,
some of Fausto's other guest-starring roles
on TV include:

Stat (1991)
Remington Steele (1983)
Kojak

And, in 1986 Fausto Bara had a 'day' role (Alonzo) on the TV soap opera,
Another World.


Robert Benedetti (Coach) –

After researching him, I am firmly of the opinion that Robert Benedetti
is a modern day renaissance man. Want proof? Read on!

Dr. Robert Benedetti (he holds a doctorate from Northwestern University)
has won two Emmys as producer of the Best Television Movie. The first
was for the 1997 HBO film, Miss Evers' Boys; he won his second Emmy in
1999 for 'A Lesson Before Dying', also for HBO.

Prior to those illustrious triumphs, Mr. Benedetti's talents extended
into not just writing but producing as well. In 1996 Mr. Benedetti wore
2 hats, namely that of producer and screenwriter of the remake of 'The
Canterville Ghost' starring Patrick Stewart.

Another of his '2 hat' projects occurred in 1994 when he wrote and
produced the NBC air rescue film, Mercy Mission starring Robert Loggia
and Scott Bakula. Mercy Mission continues to be a perennial favorite of
QL fans. Oh yeah, he also acted the role of Harry, Jay Parkins' boss
in MM. (Guess that makes this a '3 hat trick' project for him, doesn't
it?)

Moving right along, add to that impressive list the fact that from 1991
to 1996 he was president of Ted Danson's Anasazi Productions, and was
executive producer of a Paramount feature film, Pontiac Moon.

Anyone not yet suitably impressed? Okay, then how about this…

In the field of education … Remember, I did use the term 'renaissance
man'… some of Mr. Benedetti's achievements include:

1974 to 1981 - dean of the School of Theatre at the California Institute
of the Arts.

Prior to his tenure at the California Institute of the Arts, he served
as head of the acting program at the Yale Drama School and chairman of
theatre at York University in Toronto.
Mr. Benedetti has been a master teacher at the National Theatre School
of Canada, the National Institute of Dramatic Art in Australia and the
O'Neill Theatre Institute.

I ask again… anyone not impressed yet?

Robert Benedetti is an accomplished published writer. One example of
his talent as a writer is the book he wrote in 1970 titled 'The Actor at
Work'; that book is presently in its 8th printing.

Others books Mr. Benedetti has penned include:

1998 - 'The Director at Work' (with a foreword by John Houseman);

1999 - a new book appeared, The Actor in You;

2000 - ACTION! Acting for Film and Television (published by Allyn &
Bacon);

2001 - From Concept to Screen: An Overview of Film and Television
Production;

2002 - the second edition of The Actor in You, and

2003 - there is still another book scheduled to appear some time this
year titled 'The Third Making: The Artistic Aspects of Post Production'.

And by absolutely no stretch, last, Mr. Benedetti is married, with three
children (--tongue in cheek question from yours truly to Mr. B … when on
Earth did you have time?!) and four grandchildren.*

*This is the link ....
http://www.calarts.com/schools/film/faculty/benedetti_robert.html....to
the website that was the source of this wealth of information on the
multi-talented Mr. Benedetti.
Cast members who have passed away:
Fausto Bara (Ruben de Guerra) died February 10th, 1994 at the age of 42.