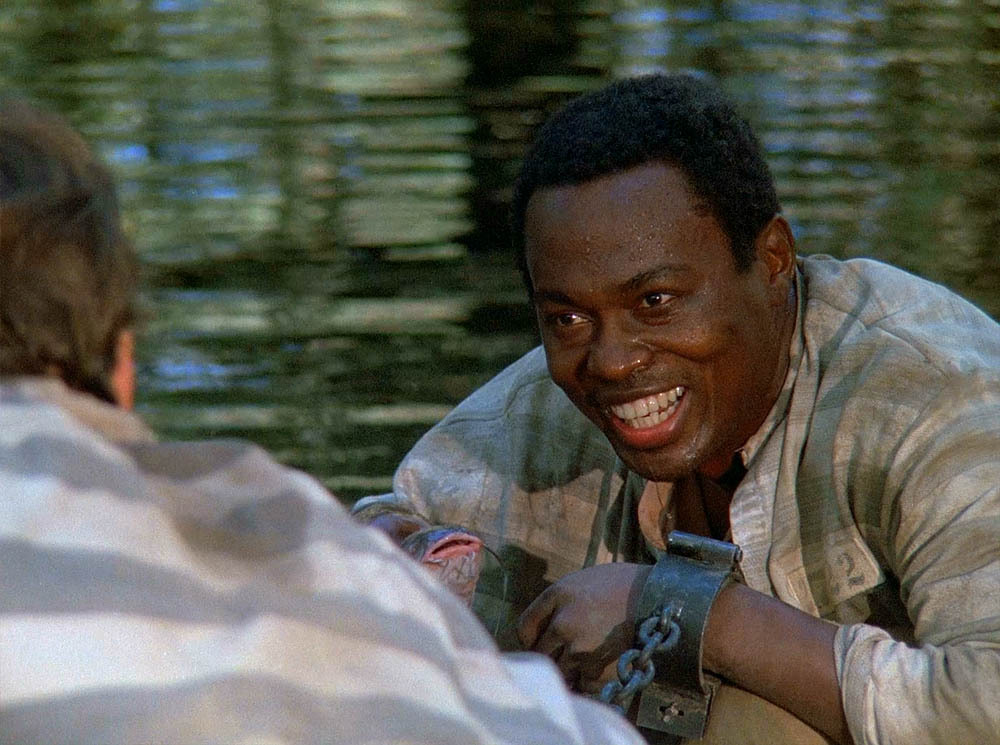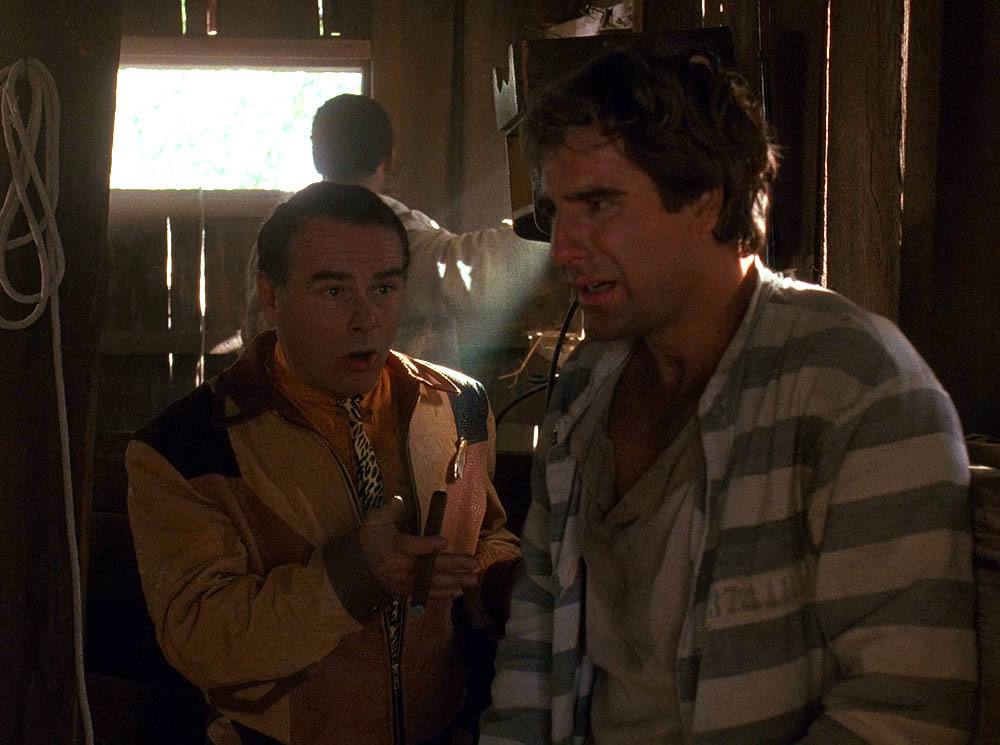 "Unchained"
---
Leap Date:
November 2, 1956
---
Episode Adopted by: MikeKraken
Synopsis:
Working on a chain gang in 1956, Sam and a wrongly accused black man named Jasper escape together in Alabama only to be recaptured again. Sam must find a way to prove Jasper's innocence to the corrupt warden as the string of robberies continue.

Place
Leap Date
Project Date
Name of the Person Leaped Into
Songs
Music Artists
Project Trivia
Sam Trivia
Al Trivia
Al's Women
Al's Outfits Worn in the Episode
Miscellaneous Trivia
Kiss with History
Writers
Director
Producers
Crew
Broadcast Date
Guest Stars
Guest Cast Notes
Guests who appeared in other Quantum Leap episodes
Cast members who have passed away
Personal Review
Best Lines
Best Scenes
Say what? (things in the episode that make no sense)
Quotable Quotes
Awards
"Unchained" - November 2, 1956

It's not the first time that Sam has leaped into a criminal, and this time, he's dressed for the part as he jumps from a prison truck chained to Jazz Boon, a man who claims that he was framed for his crimes and is now doing fifteen years for armed robbery and attempted murder, recently charged with hitting a jewelery store in nearby Langston. Did Jazz really do the crime, or is Sam there to make sure he doesn't do the time?


::Place::
Talawaga County, USA


::Name of the Person Leaped Into::
Chance Terence Cole, inmate at Tallawaga County Prison, doing nine months for petty theft


::Songs/Music::
» Regular background music (by Velton Ray Bunch)


::Project Trivia::
» Handlink: third version (colourful cubes)


::Miscellaneous trivia::
» Chance grew up around Talawaga County.

» Jazz's father "was a coloured farmer from North Carolina" and his mother was a pure-blood Muskokee, and both of them died when he was very young, so he grew up with his maternal grandmother.

» Louisiana is a bordering state with the county, but the state that they're in is never mentioned.


::Al's Outfits Worn in the Episode::
» First appearance: dark-red and black leather jacket with snaps; white dress shirt; dark-red dress pants; cigar.

» Second, third, and fourth appearances: beige suede coat with dark-brown highlights; yellowish-orange dress shirt; leapord-patterned tie; lit cigar; black slacks; gold, glittery shoes; strangley-shaped silvery pin on the left breast of his coat.

» Fifth appearance: purple dress shirt; purple and black leather coat with silver highlights; silver and black pendant in place of a tie; cigar; light-coloured pants.


::Writer::
Paris Qualles


::Director::
Michael Watkins


::Producers::
Deborah Pratt, Michael Zinberg, Harker Wade, Jeff Gourson, Tommy Thompson, Chris Ruppenthal, Paul Brown


::Broadcast Date::
Wednesday, November 27, 1991.


::Regular Cast::
Scott Bakula as Sam Beckett
Dean Stockwell as Al Calavicci


::Guest Stars::
Basil Wallace - Jazz Boon
J.C. Quinn - Boss Cooley
Claude Earl Jones - Captain Elias
Don Sparks - Jake Wiles
Robert V. Barron - Old convict
Jed Mills - Monroe
:with:
Mark Kemble - Chance Cole


::Guest Cast Notes::
» Don Sparks played a recurring role on "L.A. Law".

::Cast members who have passed away (as of the date the synopsis was written)::
» Robert V. Barron on December 1, 2000 in Salinas, California, USA, a month short of his 68th birthday. He was a writer and an actor for "Bonanza", in which Dean Stockwell guested in an episode.


::Personal Review::
Though this isn't one of my favourites, it's still a good episode. I like the story, though it doesn't have as much humour as some of the other episodes, which gives it a sort of dark feeling. It gives insight to the corruptness that probably existed (and maybe even still exists) in some prisons such as these remote ones, and the feeling of justice being served when Jazz becomes free.


::Best Line::
» Sam: "Who would have the best reason to kill Jake?"
Al: "Ooo! Does he have any ex-wives?"


::Best Scene::
I suppose the best scene, for me, is the final one, the good-bye scene. It's neat that Al gets personal thanks from one of the people that Sam and Al helped!


::Quotable Quotes::
» Al: "Nighty night, you slime! Scum! Nozzle!!"

» Jazz: "And only you can see him."
Sam: "Me, and sometimes little kids and animals, too."
Theme by - Mike Post
Music by - Velton Ray Bunch
Co-executive Producers - Deborah Pratt, Michael Zinberg
Supervising Producer - Harker Wade
Produced by - Jeff Gourson, Tommy Thompson, Chris Ruppenthal, Paul Brown
Written by - Paris Qualles
Directed by - Michael Watkins
Executive Producer - Donald P. Bellisario

(flashing credits, playing the prisoner escape music instead of "Quantum Leap" theme)
Associate Producers - Julie Bellisario, James S. Giritlian
Co-ordinating Producer - David Bellisario

Director of Photography - Michael Watkins A.S.C.
Production Designer - Cameron Birnie
Edited by - M. Edward Salier A.C.E., Jon Koslowsky A.C.E.

Unit Production Manager - Ron Grow
First Assistant Director - Ryan Gordon
Second Assistant Director - Kate Yurka

Casting by - Ellen Lubin Sanitsky
Set Decorator - Robert L. Zilliox
Costume Designer - Jean-Pierre Dorleac
Costume Supervisor - David Rawley

Art Director - Ellen Dambros-Williams
Sound Mixer - Barry D. Thomas
Stunt Co-ordinator - Diamond Farnsworth
Panaflex® Camera and Lenses by PANAVISION®
Sound Editor - Greg Schorer
Music Editor - Bruce Frazier
Special Visual Effects - Roger Dorney, Denny Kelly

This motion picture is protected under laws of the United States and other countries. Unauthorized duplication, distribution, or exhibition may result in in civil liability and criminal prosocution. Country of first publication: United States of Amercia. Univeral City Studios, Inc. is the author of this motion picture for purposes of the Berne Convention and all national laws giving effect thereto.

Copyright © 1991 by Universal City Studios, Inc. All rights reserved.

The charcters and events depicted in this photoplay are fictitious, and any similarity to actual persons, living or dead, is purely coincidental.

(second Universal Television logo at end)