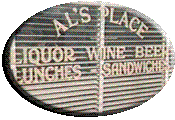 On March 26, 1989, NBC aired the pilot for a television show that would have a fan cult following years after the series had ended on May 5th, 1993. Combining science-fiction and drama with a hint of comedy and a splash of adventure, the series lasted four and a half seasons including ninety-five episodes.
From the producer of Magnum P.I., Airwolf, Battlestar Galactica, and JAG came the series fans still long for and newcomers become entranced by: Quantum Leap.
In order to understand the basic plotline of the series and it's characters, first visit the FAQ pages and developing Episode Guide!
Now, two decades later, Quantum Leap is still alive and extremely popular! A Convention was held March 27-29, 2009 in Hollywood! Check the News section for more information on this and all QL news as it comes in.
Be sure to visit The Virtual Seasons, perhaps the largest collection of QL fan fiction available! This portion of the site is maintained by MJ Cogburn.
There is also a Forum and Chat Room where you can post your ideas & thoughts, as well as converse with fellow leapers around the world!
If you can't find all the information you are looking for here, do a search from the top of this page, check out the Leaping Links page, or browse the Site Map.
Welcome to Al's Place...
where it all started!

Version 4.5
---
Quantum Leap © 1989-1993, Belisarius Productions in association with
Quantum Leap Fan Site
© 2000-2014 by Brian Greene
See photos of many members of Al's Place Online Community.
Commercials, Interviews, Conventions, Bloopers, Alternate Endings, Parodies, & more. Over 450 different clips!
(Winzip download utility required.)
Over 250 different sound clips to bring Quantum Leap back for your hearing enjoyment.
Download and read information on all thirteen Innovation comics plus info on the unpublished comics.
Contact
E-mail, mailing list, guestbook, webring, messageboard, & donation information.
Al's Place chat schedule & transcripts, flash game, and real-life time-travel information.
Cast & Crew
Biographies and info on all cast & crew members, Celebrity Leapers, plus "Gooshie's Legacy," our tribute to Dennis Wolfberg.
DVD & VHS Releases
Complete up-to-date information on DVD and VHS releases. Photos, video trailers, screenshots, and more!
Complete episode guide, chronogical leap dates, and the Al's Place Ultimate Episode Quiz!
Evil Leapers
Enter the world of the Evil Leapers featuring sounds, video, episode guide, and more. Also the gateway to the Quantum Retribution fan-fiction series!
Fan Fiction
Index of several Quantum Leap fan fiction series and fanzines, role-playing info, & story links.
FAQ
The Quantum Leap Primer, Frequently Asked Questions, & Al's Place disclaimer.
Imaging Chamber
Photos & screenshots from the television series.
Leaping Links
The largest collection of Quantum Leap site links anywhere on the internet.
Media & More
Articles, fanzines, conventions, cartoons, advertisements, scripts, quotes, wallpaper, screensavers, the QL font, artwork, the ql-archive.org mirror archive & many more miscellaneous pages.
Merchandise Archives
Links and photos of archived QL merchandise. Also includes info on the QL soundtrack, and DVD info. Items in this section are not for sale.
Mirror Imaging
Page dedicated to the final episode of Quantum Leap: Mirror Image.
News
Latest news on the convention, the new RACSO Films "A Leap to Di For" proposed fan-film & anything else related to the program and it's stars.
Novels & Books
Pictures and information on the novel series & other great Quantum Leap books.
Messageboard & Chatroom
Currently the most active Quantum Leap messageboard available. Membership is free. Fully moderated and clean atmosphere. Join in today!
Quantum Leap
Radio Files
Listen to the Quantum Theater Players act out Quantum Leap stories and vignettes!
Showtimes &
TV Schedule
Don't miss out on watching your favorite TV show! Here is the latest television schedule for Quantum Leap.
Site Updates
The latest updates to this fan site. Join the mailing list for email updates. Check the online calendar for upcoming events!
The Store
Items for sale in the Al's Place Store. Proceeds taken as donations to support the website fees. We are non-profit.
Waiting Room
How long will you wait before you discover the purpose of this room?



Convention DVD now available for $30 donation to Starlight Children's Foundation. Info