Fan Fiction featured by Al's Place
---

The Starbright Project
A Quantum Leap Prequel Series
that takes place before the events
of Quantum Leap!
Quantum Leap:
The Virtual Seasons
With over 100 great stories in continuity and growing, this
series continues the show with all new seasons!

Quantum Retribution
Live out the horrors of the Evil Project Quantum Leap
in this exciting series!

The Quantum Leap Radio Files
Fan fiction audio series!
Quantum Leap Role Playing Games
A page of links and descriptions about several interactive role-playing series!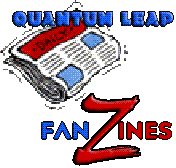 Quantum Leap Fanzines
Browse through the images and contents of more than 100 Quantum Leap fan publications from 1990 to the present!
The Al's Place Fan Fiction Forum
The Miror Shattered by R. Joy Helvie
Mirror Expression - Part One by B. D. Greene
Mirror Expression - Part Two by B. D. Greene
Mirror Expression - Part Three by B. D. Greene
Time To Go Home (a continuing story) by Leanne Clugston
A Touch In Time by QL Quanta
Longer Than Forever (a poem) by QL Quanta
Somewhere Between Limbo and Lightning by Chris DeFilippis
Other Sites Containing Fan Fiction
---
Jane's Story Page (10 stories)
Original Stories (by various authors)
---
"Like Mother, Like Great Granddaughter"
Crossover Stories
---
Empire of Dirt" (Highlander)
"The Path Not Taken" (Dark Shadows)
"A Leap for a Knight" (Knight Rider )
"Multiple Monkee Personalities" (Monkee's)