Click banner above to see the 2004 winners!
The awards are shown below.
Click the award icon to see the awarded entity.
If you won, please post your award on your website!
Awards Index

Website Awards
Community Awards
Audio / Video Production Awards
Virtual Series / Fan-Fiction Awards
Miscellaneous Awards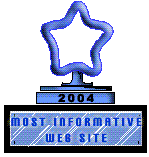 Most Informative: Al's Place - A Quantum Leap Fan Site
With everything from an episode guide to the latest on the DVD releases, Al's Place contains almost anything you could ever need to know about "Quantum Leap". If you can't find it on the site, then certainly it is somewhere in the Leaping Links section. It is definitely the resource for many a Leaper.
Most Innovative: Al's Place - A Quantum Leap Fan Site
With programs such as TEA (The Episode Adoption) for building the episode guide, as well as a handy, user-friendly navigation system, Al's Place wins for innovation. The ease of use and encouragement for fan interaction is probably why this site won the award.
Most Improved: Project Quantum Leap
Though the name is not original, this Web site was the best to have an improved look in 2004. The simple navigation and interesting content make it a great site in general.
Best Overall: Al's Place - A Quantum Leap Fan Site
After taking the two awards for being informative and innovative, it is hardly a surprise that Al's Place was voted the best overall "Quantum Leap" Web site of 2004. As was mentioned, the navigation is easy to use, and with so much information, it is amazing to be able to find things so easily. The search function comes in handy as well.

Beyond that, the site is translated into other languages besides English (with ambitions for more), and is continuously updated. Brian Greene, the Web site's author, has all reason to be proud of his creation.
Best Scott Bakula: Scott Bakula Online
One of the major Scott Bakula sites on the Internet, Scott Bakula Online has a wonderful user interfact with many interesting features and tonnes of information about the actor. Though some sections are still under development, it was voted the best hands down.
Best Dean Stockwell: Official Stockwell Appreciation Society
Although Dean Stockwell is not as high-profile as his "Quantum Leap" co-star, there are quite a few sites dedicated to this actor as well. The Official Stockwell Appreciation Society Web site contains a wealth of information about Dean's current appearances, historical articles, quotes, and so much more. It is run by the Sassies, with much of the information coming from their mailing list.
Best Quantum Leap: Al's Place Quantum Leap Online Community
This ezboard message board has been around for about 2.5 years and currently has nearly 400 members. There is constant activity on the board and has a wonderful moderation team who keep the community feeling like your local hangout. Beyond talking about "Quantum Leap", there are forums for posting fan fiction, discussing the recent Visions Columns, as well as a bustling off-topic forum. It is a place many call home on the Web.
All-time Favourite Quantum Leap: Al's Place Quantum Leap Online Community
Not surprisingly, Al's Place message board has also won the retroactive award for all-time favourite.
Best Dean Stockwell: theSassies (acclaimated)
Nearly 50 members on this Yahoo! Group mailing list can attain that it is the best resource for talking about Dean Stockwell. Calling themselves the Sassies (SAS = Stockwell Appreciation Society), this group of Stockwell fans talk about his film and TV appearances, as well as his other connections in Hollywood and beyond.



Best Scott Bakula: Scott Bakula Fan Forum
Probably the busiest Scott Bakula community, Scott Bakula Fan Forum is an ezboard message board, currently with 274 members. They talk about all things Scott, especially his telvision, stage, and movie career. There is even a forum for those who have met him to talk about their encounter.
Virtual Series/ Fan-Fiction Awards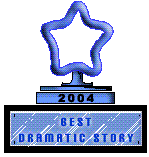 Best Dramatic Story: "The Little Things"
When Sam leaps into an autistic eight-year old, Al has a hard time when there seems to be a lot of magnafluxing with the leapee. Shawn P. Deal, the story's author, should be proud of himself for dealing with this affliction with such a touching story.
Best Historical Story: "Along a Shining Path"
Shawn P. Deal's first of two stories in 2004, both of which aired on Quantum Leap: The Virtual Seasons (episode 1022), deals with Sam leaping into Peru and having to prevent various murders by foreign militants trying to oust the Spanish "invaders". It portrays an important historical point about Sout America.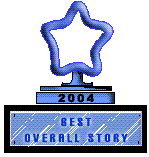 Best Overall Story: "Lifetime" trilogy (acclaimated)
With no contenders for this category, Damon C. Sugameli's "Lifetime" trilogy, which also aired on Quantum Leap: The Virtual Seasons (episodes 1032, 1101, and 1102), was awarded for its complete excellence. Sam travels to the past, the present, and even the future in these three episodes, bringing together many aspects of our hero's time-travelling activities.
All-time Favourite Story: "The Final Solution" and "ETC" (co-winners)
Sue Johnson's "The Final Solution" aired as episodes 1001 and 1002 on Quantum Leap: The Virtual Seaons. Sam leaps into the end of World War II as a prisoner at a concentration camp in Auschwitz, Poland. One can be inevitably brought to tears many times during the story as it progresses.

"ETC", a 20-part story by Christina L. Bartruff, has the tagline "In 1960, Lt. Elizabeth Townsend was stationed at Pensacola NAS, Florida. Little did she know she would meet the man who would change her life forever......"
Best Virtual Series: Quantum Leap: The Virtual Seasons
Starting out in 1999 with a "virtual sixth season" having 18 episodes, Quantum Leap: The Virtual Seasons has grown by leaps (pun intended!) and bounds to have five more seasons at 32 episode each, greatly expanding on the universe established by Donald P. Bellisario's original television series. It has 28 talented authors as varied as the series itself, all of whom have aided in the growth of this virtual series.

A.J. Burfield and M.J. Cogburn, the co-founders, have given the Quantum Leap community the perfect opportunity to feel as though the series has continued.
Best Role-Playing Game: Future's Past RPG
As with most of the other "Quantum Leap" RPGs on the Internet, this game started off after Sam's next leap after Al's Place. Things are going wrong at the Project and Sam is having a tough time on his leap.

Though the players come and go, the story has been going for over two years and continues to press on.
All-time Favourite Role-Playing Game: Quantum Leap RPG
This RPG, which started out at the end of 1999 on ONElist, is self-declared as the original "Quantum Leap" RPG on the Internet. Sam has returned home, only to have on of Al's daughters leap in order to prevent a catastrophic event at the Project. Eventually, she falls into the hands of Lothos, which launched an entirely-new scene for the RPG.

Although dwindling in numbers in the past year, the story still goes on, slowly but surely, and is a favourite to many.

Best Audio Play: "Gifts, Small and Temporary"
One of three "Quantum Leap" radio plays released in 2004, this play takes place at Christmas time and gives Sam and Al a chance to talk. It's truly a great Christmastime tale!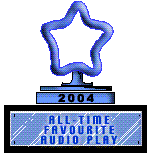 All-time Favourite Audio Play: "The Impossible Dream"
Another one of 2004's offerings, "The Impossible Dream" delves into Sam Beckett's innermost thoughts about his quantum leaping lifestyle. A wonderful job by all involved!



Best Music Video: "For Donna"
Did you ever thing that The Calling's "Wherever You Will Go" could be so emotional when put to video? This music video features scenes from "The Leap Back" and "Star-Crossed" put together just perfectly with the song.



All-time Favourite Music Video: "A Tribute to Quantum Leap"
Released in late 2003, "A Tribute to Quantum Leap" is an amazing collection of scenes from the series, showing the epitomy of our favourite television program.
Favourite Episode: "M.I.A."
One of the most moving episode of the original "Quantum Leap" series, it was tied at six votes with "Catch a Falling Star". The Awards Committee decided that "M.I.A." deserved the award over its chief competitor.



Favourite Novel: Angels Unaware
Touted by many Leapers as (one of) the best "Quantum Leap" novels, L. Elizabeth Storm's story won this year's retroactive award.
Biggest Fan: Brian Greene
The "bartender" of Al's Place - A Quantum Leap Fan Site has been a pillar of the online Quantum Leap fanbase. Beyond the Web site, he also runs the Al's Place Quantum Leap Online Community and The Starbright Project.



All-time Favourite Game: Quantum Leap Picture Quiz
This game, currently on its 335th week, gives Leapers a weekly chance to guess at ten screenshots from the original series to see if they can tell which episode they come from. Weekly results are announced on the Quantum Leap Usenet newsgroup.



Best Quantum Leap Product: Quantum Leap: The Complete First Season
Universal's first offering of "Quantum Leap" on DVD was well received by the fans. It has the original airings exactly as seen in 1989 (except for "Play It Again, Seymore") along with bonus features, such as interviews with Donald P. Bellisario, Scott Bakula, and Dean Stockwell.